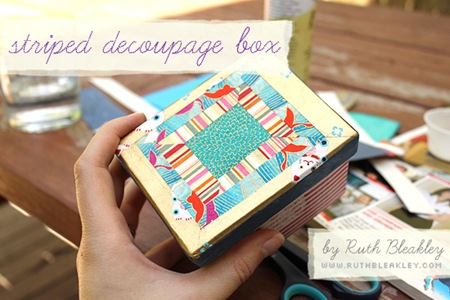 Striped Paper Box Tutorial
As a bookbinder, I find myself with loads of paper scraps (my scrap box probably weighs about 5 lbs!), and I'm always looking for resourceful ways to use them up, especially the long strips that come from trimming the edges of handmade paper. This is a project I came up with that creates striped layers of paper, using up awkwardly sized paper while showcasing lots of different types of paper.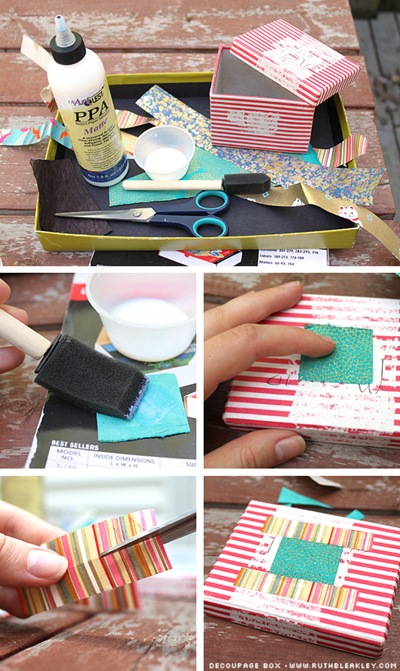 Tools & Materials:
A box to re-cover
Decoupage glue (I used "Perfect Paper Adhesive – Gloss" but you could use Mod Podge or watered down Elmer's glue)
Brush for the glue (I like sponge brushes)
Paper scraps (any type, not too thick)
Scissors
Bone folder
Waxed Paper
1. Find a box you'd like to cover – I used a pretty but ragged paper box that I received a lovely gift in (I believe it was a chicken-shaped egg timer that I still use). A wooden box would be fine too, but avoid one that has lots of molding. Straight sides work best.
2. Starting with the lid, I began with a squarish-shaped piece of paper, which I glued right to the center of the box.
3. Then, using a different contrasting paper I cut strips to outline the square, and I cut the edges at an angle so that they'd meet at a nice angle.
4. I continued layering strips of paper from the inside out, layering them slightly so there were no gaps.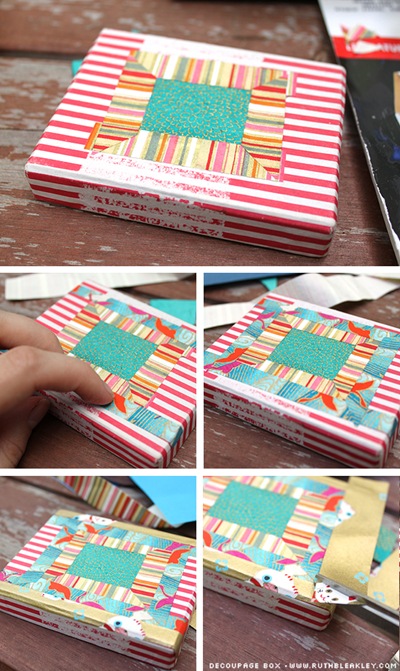 5. When I got to the sides, I cut an extra wide piece of paper that would wrap all the way around the edge of the lid, trimming to fit.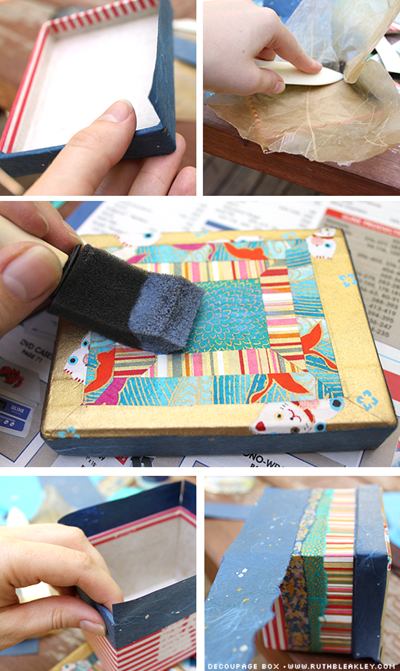 6. With a piece of waxed paper between the box and the bone folder (or butter knife or scissor handle) rub down the paper to make sure that everything is nicely stuck down. The waxed paper keeps you from tearing your design.
7. Seal the lid with your decoupage glue, apply three layers for best effect, allowing each to dry before applying another layer.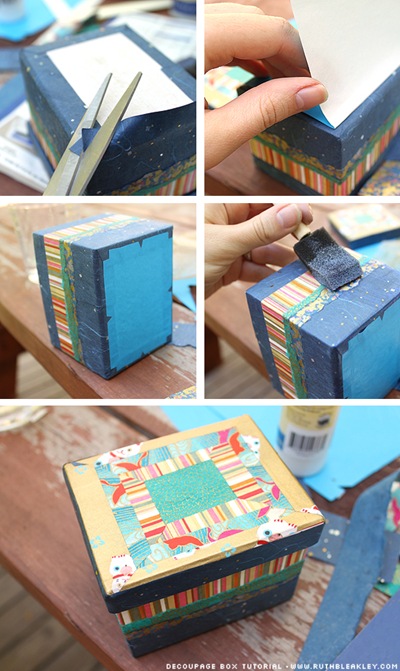 8. Bottom of the Box: Layer like you did the lid, starting from the top, where the lid fits, and working your way down. You might want to tear some of your paper for textural effect.
9. If your paper strip isn't long enough to go all the way around, cut it in half the long way so you have two long, skinny strips of paper, and simply snip the extra that you need from your new second strip of paper.
10. When I got to the bottom of the box again I cut a strip extra wide so that I could fold it under around the edge at the bottom.
11. I cut a piece of scrap paper to cover the entire bottom of the box. In case you were wondering, no I didn't line the inside – but you could!
12. Seal the paper with your glue by brushing over top of everything, for best effect apply 3 layers allowing to dry in between each layer (impatient crafters, use the blowdryer to speed things along!)
13. Ta-Da! admire your pretty box! here's a book cover I designed using a similar technique, in fact using some of the same paper strips!
Ruth can be found creating pretty things at RuthBleakley.com. She uses her bookbinding and graphic arts experience for her lovely Etsy Shop!

Thanks so much for the beautiful tutorial, Ruth!

~Kim