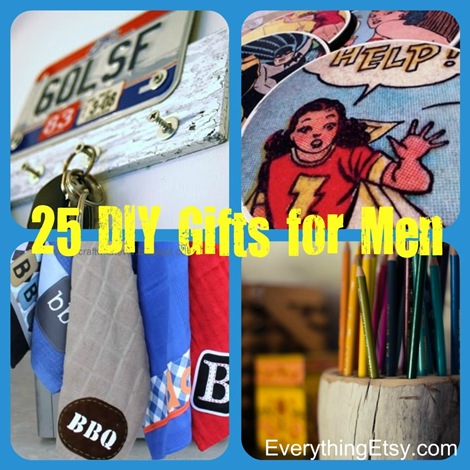 I love handmade gifts and I've gathered some great gift ideas for the men in your life…25 cool handmade tutorials that will make them feel extra special! Men can be so hard to shop for sometimes!
There're a few things for the guys that like to grill, their office and even the garage. Don't miss the beautiful leather journal that's so easy to make and looks like a million bucks!
Geek Coasters – Man Podger David on Modge Podge Rocks
Relaxing Hammock – Etsy
Rustic Pencil Holder – Strawberry Chic
BBQ Hanging Towels – The Silly Pear
Camping Stool – Design Sponge
Monogrammed Cuff Links – The Purl Bee
Laptop Sleeve – Sew Mama Sew
Golf Club Headcovers – Positively Splendid
Pocket Watch Photo Album – The Mother Huddle
Baseball Team Pillow – Better Homes and Gardens
Grillin' Towel – Craft Whatever
Photo Cuff Links – Small Fine Print
Spice Rub Tins – Creative Maven on Kojodesigns
Tie Key Chain – Greenbean's Crafterole
Desktop Zen Garden – Curbly
Monogrammed Necktie – Martha Stewart
Bay Rum Aftershave – The Art of Madness
Paperback Book Wallet – Refabulous
Lego Cufflinks – HGTV
Stamped Key Chains – Girl In Air
License Plate Key Holder – Lemontree Creations on Kojodesigns
Dad Frame – Martha Stewart
Knit Chunky Sweater – Yarn Forward
Bike Handlebar Bag – Giver's Log
Now you might be able whip up something for a last minute gift without having to run to the store. Go you!
Looking for more handmade gift ideas? Check out 101 Simple Handmade Gift Tutorials!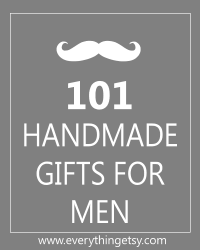 The response to this post was so positive that we created an even BIGGER list of diy gifts for men…101 Handmade Gifts for Men will give you fabulous ideas for years of holidays and birthdays. 🙂
Handmade gifts rule…Target drools! 🙂 Do you have a favorite? What's your favorite handmade gift to give? Food gifts are always popular around here…ha!
~Kim