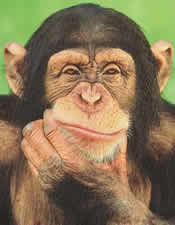 We've all had those moments when we wonder… what were they thinking?
Around here, I'm usually wondering that about one of my three boys/men (they all alternate between these two randomly).
Recently though, I had an experience which caused me to wonder the same about a company I had ordered from online.
I won't bore you with the details… okay, maybe I will.
I needed some mascara
.
So this is important.
The store I usually buy from is about an hour away so I decided to order online. No free shipping (they say the best loved words in online sales are "free shipping") so I decided to add another, not important, purchase just to make it seem more worth it to pay $5.00 for shipping.
So far, so good. I pay for the order… done deal.
Not.
A few days later I get an email informing me of the great news: Your order has been shipped! Yippee!
However, a little further reading and I find a note that says (and I'm paraphrasing…) sorry about your luck, but we're slap out of the mascara! Don't really know what to tell you there…as far as we're concerned it's water under the bridge. But we did send out your other item. Okay then, thanks…bye.
So I ended up paying the $5.00 shipping for the item I didn't really even want and didn't get the item I was shopping for. And let's not even get into the packaging they used for a tiny jar of makeup…
Etsy Sellers Use Common Sense
This wouldn't have happened buying from an Indie seller. One of the great things about working with individual business owners is that they're free to use the common sense God gave them!
Off the top of my head, I'm not sure the best way to work that into your marketing. I guess "Buy from us, we have common sense." won't suffice, will it?
It's A Marketing Advantage
No matter how we choose to sell it, it's very important to recognize every single advantage we have over the big guys.
Using common sense in customer service isn't actually all that common.
Score one for the Etsy Sellers!
Go Etsy!
~ Kim