Compare pricing, determine postage, print labels and more right from your PC.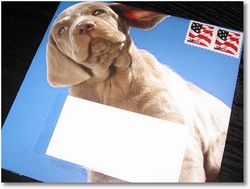 One of the not-so-fun parts of success on Etsy can be the trips to the post office!
Our local branch sometimes get backed-up with lines that run right out the door! It can take as much as an hour on a really bad day, but even good days might be a fifteen or twenty minute effort. And that's after getting there (we're okay on that part, it's only about a mile away).
Enter USPS Shipping Assistant Software
We downloaded the software from the US Postal Service website and it was a breeze to install and get set-up. We used it today to ship out a couple of packages and it was a very convenient and simple process.
During the set-up process it asks for the shipper information, so unless that changes we don't have to enter our name and address. Just enter the buyer's name and address and the weight of the package and you're ready to print a label.
What we really thought was cool was the ability to compare numerous shipping options on one screen. It's funny how something can sometimes be sent Priority Mail for an extra 25 cents! Getting that purchase to the buyer three days sooner sounds like a great way to spend a quarter to me! Shipping Assistant lets you compare and choose your shipping method.
If you ship bulky items, there is an option for entering the dimensions to be sure you get the proper postage.
Print Labels, Stick Stamps, Put In Mailbox!
No need to go anywhere with this and no guessing if the amount of postage is correct. (usually paying way too much to be sure!)
Just print out a professional looking label and tape it to your package. It has the postage amount right on it, so you can just use stamps!
Even though our post office is close, the mailbox is much closer! And no lines.
It's worth a try to download the Shipping Assistant from USPS.