If this isn't the idea of the century, it's close. Well, maybe I'm biased because I'm a complete color fanatic and this post just gets me all tingly.
Here's the source of my good vibes:

I found a cool site where you can see the name for any color.
Kimberly, The Color
I had no idea. I can't decide what I think about the particular hue that has my name. I might have picked something else, but it is very similar to lavender, so maybe it is right after all.
This isn't 100% perfect as I didn't see a couple of my favorite paint colors, Kayak Yellow and Lattice Red, both from Ralph Lauren paints.
Perfection, however, isn't required for the marketing thought it brought to mind for those of us working hard to get those sales on Etsy.
Use Fun Color Names In Item Descriptions
It doesn't matter where you get the name for your color. You might use that website, or you might use the name from the paint you used. The idea is to use fun, interesting, and descriptive names for your colors. This will excite the imagination of the potential buyer reading about your item.
You'll soon be selling so much you'll have UPS and FedEx fighting over your account while you try and decide between the trip to Hawaii or the week at a spa in Sedona.
For More Color Inspiration, Check Out These Sites
Pic2Color lets you upload an image or just put in a url to an image already online and get a color palette generated from it. You can then use those hex codes at the color name site above to find out the name. It's fun.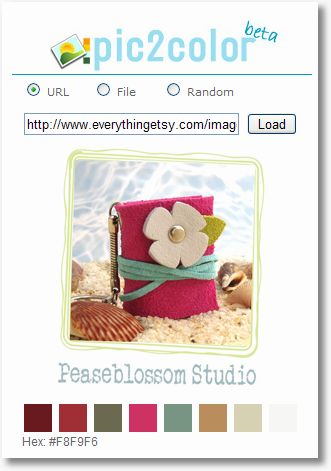 Did you know? If you're using Windows you can right click on most images you see online and select "copy image url" and that will give you the direct url to that image.
The Meaning of Colors – You gotta wonder… I bet it pays to understand some of this.
MultiColor Search Flickr Tool – Way cool! I've enjoyed this for over a year and wish I remembered to look at it more! A great way to get inspired or an emotional pick-me-up!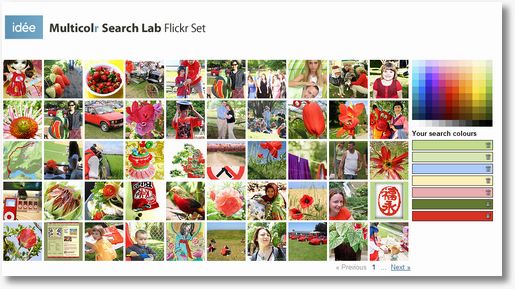 —————————–
So, my big idea is to use more descriptive color names, but I know you must have some thought about colors too! I'd love to hear them. A conversation about colors can't be anything but good in my book!
Have a great week! ~ Kim