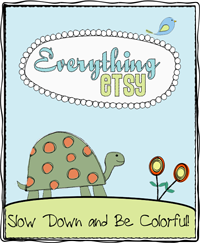 We're so excited about the new look of Everything Etsy!!!
It was designed by Tim Layton Designs…also known as my sweet husband! He worked for hours and hours making me cute little buttons and stuff. He knew exactly what I wanted!
You'll find a couple new buttons in the sidebar and a link to our Button, Badges, and Bling page which is full of cute buttons in different sizes and styles. I'd love it if you would grab one for your blog!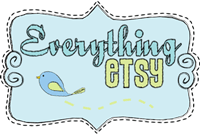 We're talking about organizing supplies all month, so keep checking back for beautiful photos and tips. I can't believe all the great ideas that have been left in the comments, so I'll be sure to share some of those with you soon.
There have been some changes in the way our ads are displayed, and we'll be starting a new section of ads from $5 a month. That should help out some of the new Etsy shops!
We're still working on a few things…like the "SWEET" button at the top. We'll have more information on that soon. You'll like that!
We truly enjoy handmade creations, Etsy, and all the talented folks we've met since we started Everything Etsy over a year ago.
Thanks for making it so much fun, and I hope you'll enjoy all our upcoming posts!
~Kim