Did you know that Etsy Shops perform extremely well on Google?
The Etsy site as a whole has quite a bit of authority in the eyes of major search engines which can absolutely translate into sales for you! The most important part of the equation is in the wording you add to your Etsy shop.
We'll show you how to get better at it!
Take a few minutes to do keyword research before writing your product description.
Here's how you do that:
1.
Go to Google's Keyword Research Tool (read the rest of the post first so you know what to do when you get there!)
2.
Think of some words that you think describe your product. I just pulled an idea out of the air and searched for "Wooden Toys" Here is the screen: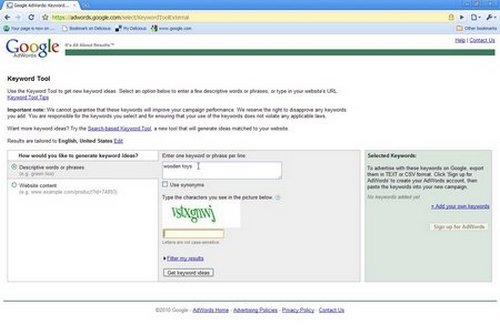 3.
On the results page, you'll see various phrases related to the term. These are combinations of words searched for (you can use quotations to search for exact worded phrases) and you can see how many searches per month Google gets for that term.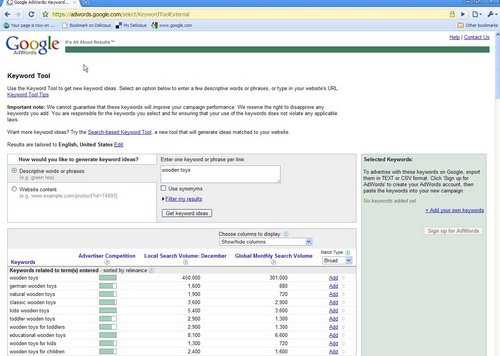 4.
On the left, you can see a green bar… that shows how stiff the competition is for paid Google AdWords campaigns for that keyword group. The more solid the bar, the harder it will be to gain search traffic in that term (but you still should use it if the numbers are huge)
Run down that column looking for a term that has three characteristics:
It fits your product
It has low or medium competition
It gets at least 1000 searches per month, preferably more.
Since I don't sell wooden toys this was more of an exercise for me, but I saw a decent idea! I saw that about 1600 people per month search for "Old Wooden Toys" and the competition wasn't that high. Vintage (old) stuff sells great on Etsy! Maybe not a bad idea for a shop!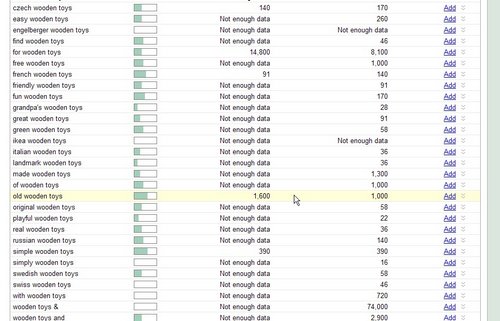 5.
Once you find some good terms, include those in your item description. This will help your Etsy shop perform better in search results for your items! You can also keep a list of these terms so that you can use them in an AdWords campaign should you decide to advertise that way. Which we'll be talking about soon.
I've really simplified this. If you want to get ultra-serious, there is a whole lot of information online about keyword research. It's probably worth some time to learn even more. But this will get you started! Good luck!
(note fyi: this and most of the business how-to posts on Everything Etsy are written by someone far less pretty than the girl in the sidebar. I'm her lucky husband, Tim, aka RemodelingGuy. )