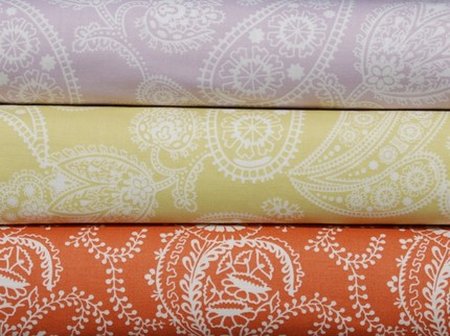 Isn't this pretty fabric?
There are wonderful suppliers on Etsy that you might not hear about all that often. I've seen many featured sellers, but what about the suppliers?
We are going to have a "Supplier Spotlight" here at Everything Etsy. I'd love to hear about your favorite supplier on Etsy. You know, the one that has great customer service or selection.
Here's one of my favorites…

Down Shadow Lane is a wonderful fabric supplier on Etsy! If you use any fabric at all, you need to take a look at here extensive collection. It's easy to spend quite a bit of time looking through Jen's shop!
Here's a little about Jen…in her own words.
I am a stay at home mom to 3 kiddos (12, 10, and 6).
I love to make cards (new at this), make jewelry, knit, crochet, sew and cross stitch. This is pretty much what started me selling on Etsy. I would make tons of stuff and give it away and finally my taxes were due and we had to go through our check books and mark items (I had so much money go into my craft supplies I was a little shocked). So I found Etsy and I have been in love with the site ever since! It is such a great way to stay home and be able to bring in some extra money (which all goes to my hobbies). I have met so many great people on Etsy and I love the fact that I can communicate with so many people who love crafts as much as I do. I really have awesome customers too!
Buying supplies from other Etsy sellers is great for everyone. Support each other!
Down Shadow Lane carries a wide variety of fabrics; vintage, retro, reproduction, quilting, and children's prints. She has over 100 items in her clearance section right now!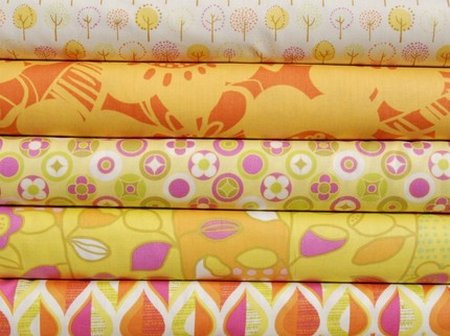 This is a new Wildwood collection of fabric by Erin McMorris.
One lucky winner will get this whole bundle of fabric to enjoy!
Here's all you need to do to enter…
1. Visit Down Shadow Lane and leave a comment about your favorite fabric.
2. Subscribe to Everything Etsy, or leave a comment if you are already a subscriber.
3. Spread the word by Twitter, Facebook, posting on your blog…whatever.
You can leave up to three comments and increase your chances of winning!
Have fun looking through Down Shadow Lane and Good luck! This giveaway ends May 17th.
**Rachel at One Day at a Time is the winner of the great Paper & Cake Giveaway! Congratulations!