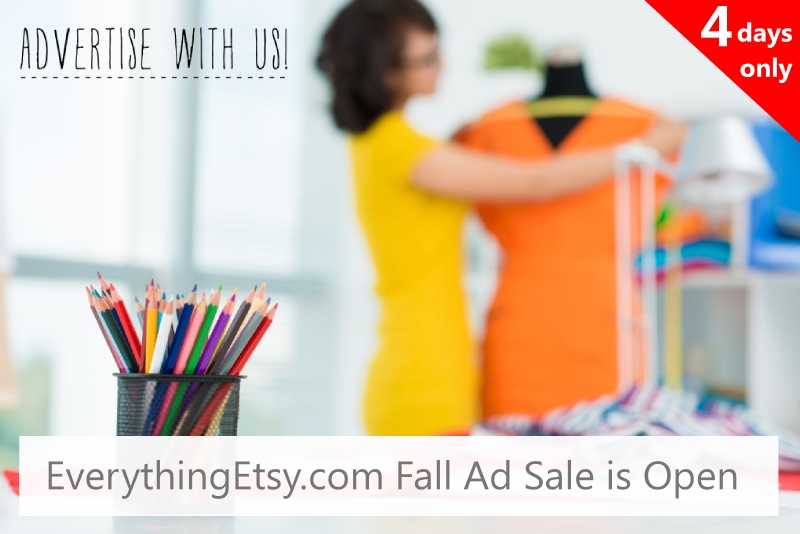 The Opportunity is Now
The next few months are a time of particularly great opportunity for selling online.
If you're selling handmade, vintage, or supplies through Etsy or through your own website, now is the time to start thinking about holiday sales. The time to start positioning yourself and preparing for a record season is today, well ahead of the holiday rush.
If you do this, if you start now and work hard making sure you're ready, the results can be beautiful. I'm not just saying that because we're selling advertising. You can set yourself up for success by advertising at any of thousands of potential places. But you would be smart to advertise somewhere. The first two articles in our series talked all about the reasoning behind this, what advertising does for you, and how to get customers to take action.
Let's Talk About The Opportunity
We do an ad sale every three months and this particular three month period is going to be a big one. It covers some prime online shopping time including the biggest shopping day of the year, the oddly named 'Black Friday'. The time of year alone would make getting an ad on our site right now a great move for your business.
But today we're announcing something more. Starting with this group of advertisers we're going to be including two very valuable new features at no extra charge. These new benefits of advertising with EverythingEtsy.com promise to have an incredible positive impact on your sales.
New: Weekly Deals List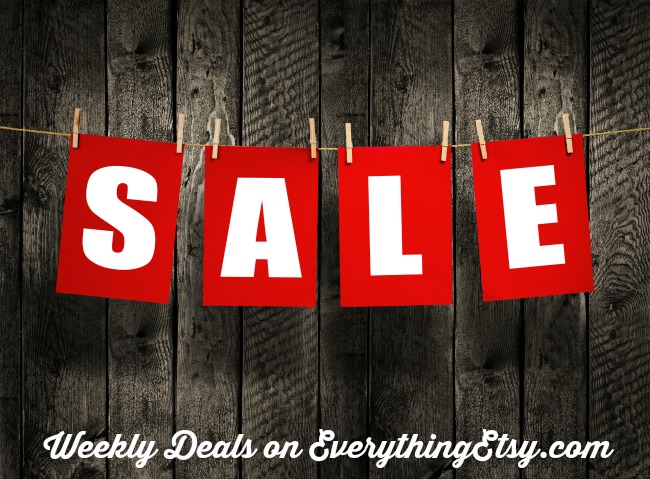 Open only to advertisers, we're going to publish a list once a week of coupon codes you submit. We'll publish these codes in a weekly post on the main site which will include the name of your shop, the offer, the coupon code, and a link to your shop or website. Coupon codes are proven to be highly effective in getting customers to take action!
We'll actively push this post out as far and wide as we can, which means sharing with over 100K fans on Facebook, over 100K on Pinterest, over 30K email subscribers, and thousands upon thousands of daily blog visitors. The rest is up to you… if you submit really great deals to us, then the list could go viral and then there's no telling how many people will be reached.
We feel like this could be crazy valuable to our advertisers and we're going to work hard to make sure it is. You'll have access to a private submittal form and you can submit one code per week. We hope you'll participate frequently because people love coupons and will gladly scan through a long list of deals in search of one that is perfect for them.
Improved: Everything Etsy Directory
A few years ago we built a directory for Etsy shops, service providers, and suppliers. The idea was a hit and the directory listings came in faster than we could put them up. We had a premium listing option which many of you took, but the majority of the listings were free. The free listings were quickly out of control and it became more work than we could handle, so we closed new listings and stopped talking about the directory.
In the time since then, however, the directory has been live and the listings have been getting traffic. They were listed in search engines and people browsed the directory just like we hoped they would. Based on our statistics reports, the directory actually had pretty good traffic even though we never talked about it and didn't link to it from the main site.
So we're bringing it back better than ever and for paying advertisers only. We want the directory to be filled with people who care about their business and willingness to shell out a little money is one of the best indicators of that. An interesting side note: Of the Etsy shops who actually paid for a premium listing in our directory back in 2011, a large percentage were still in operation and the average number of sales in those shops is over 10,000 sales! As we've said before, advertising pays!
The new directory listings are designed to offer you an affordable and easy way to get your business out there.
Directory listings include access to the Weekly Deals publication!
Listings include beautiful large images from your website or Etsy shop
We'll bring in your story from your Etsy about page or website about page
Link to your shop
Include links to your social media, blog, etc.
We set the whole thing up for you, you don't have to do anything!
Display Advertising Still Rules The Day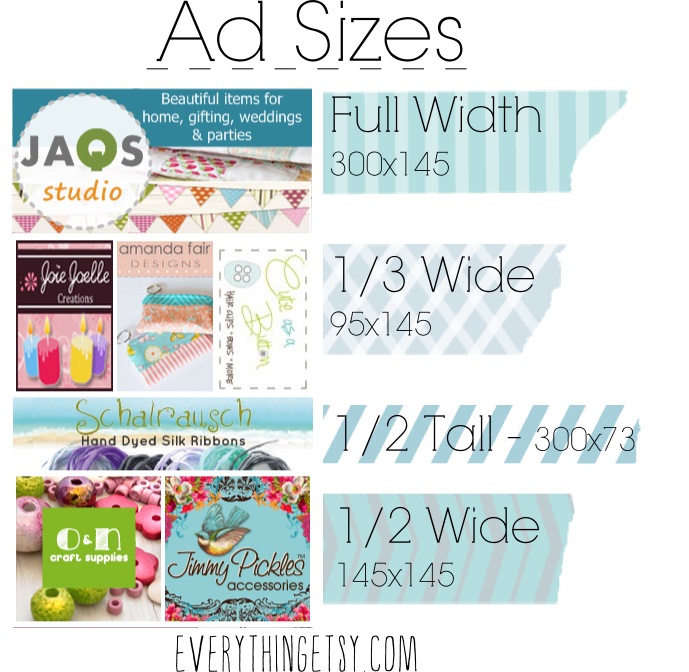 While coupon codes are great and the directory listings represent an unbeatable value, the fact remains that a display ad is still the best way to build your brand.
Display ads on EverythingEtsy.com are seen by thousands of people every day. Not just any people either. Our audience is made up completely of people who love things like this:
Handmade
Vintage
Etsy
Handmade Gifts
DIY
Weddings
Jewelry
Fabric
Printables
Blogging
The list goes on and on… there are over 1000 posts on the site and each one of them is out there all the time ready to display your ad to visitors.
The visual impact of a display ad lets you build your brand and get your message out there on a large scale at an affordable cost. Our smallest ads are only $50.00 a month including a directory listing and access to the Weekly Deals publication. It's an incredible deal.
Oh, and this time around, we're offering a (very basic) ad design at no charge. So if you don't have the skills to create your ad graphic, that's no excuse!