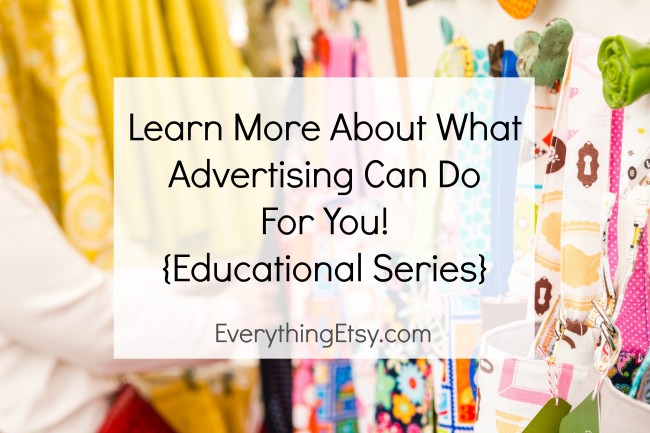 What Advertising Can Do For You!
You've got a great Etsy shop. You've worked hard and come up with an awesome product line, a pricing strategy that offers a clear value to your buyers, and a willingness to serve your customer like they're the most important person on earth. Yet your sales stubbornly refuse to reach the levels you want or need them to.
Here is a question that has the power to change your business forever… Are you advertising?
If you are advertising then the questions start to get more pointed. Where are you advertising? Are you reaching the right audience? How much exposure are those advertisements getting? Are your efforts and investments translating into customer actions? Are you getting sales?
The next article in this series will dive into those more detailed questions, but first let's make sure we're on the same page about one thing.
You must advertise to succeed in an online business.
Period.
No question. It's not even up for debate. How you advertise and where you advertise are good questions but not "should you advertise?". You must.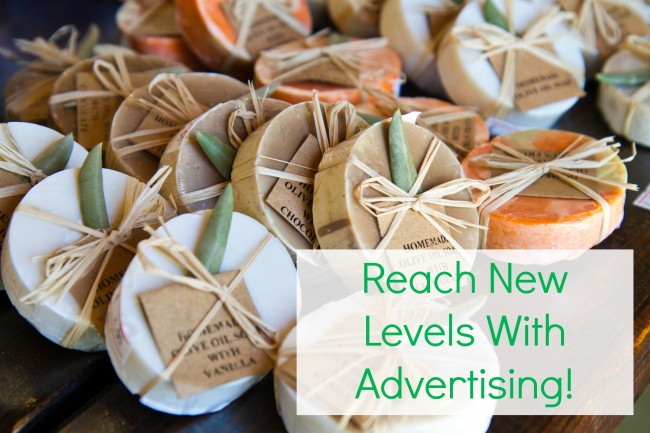 Why Advertising is Unquestionably Required
Forbes magazine hit the nail on the head when they called advertising "a highly efficient way to say hello and offer a sense of ourselves to potential clients – on a scale we could never achieve in person."
That's really what advertising is. It's a way to "get the word out" about your business. As an Etsy seller you might argue that Etsy is going to bring you traffic to you so you don't need to advertise. It's true that Etsy is giant and has a massive gravitational pull that brings in millions and millions of paying customers every year. But that's not enough.
Advertising is a highly efficient way to say hello — Forbes Magazine
Those customers who just "find you" are a wonderful reason for selling on Etsy. But they're the icing on the cake, the fluff, the extra. They can't be your primary source of sales if you want to build a sustainable business. If you just want to make a few bucks from a hobby then that's great. But if you want to create a real business with a brand which is known by people who buy what you sell, you can't count on Etsy to deliver your customers on a silver platter.
Here's why: There are over 1 Million sellers on Etsy! (this isn't even a recent number!)
The Mall of America in Minnesota is widely recognized to be the "largest mall in the US" and it has only 522 stores. I've never been there so I can't testify to how large it is but I have frequently visited Sawgrass Mills mall near Fort Lauderdale, FL which ranks 7th on the "largest malls" list and has a paltry 350 stores. I can tell you the place is enormous at 350 stores! Etsy has more than 1 Million shops!
On the one hand it's great because that many shops attracts lots of attention and Etsy boasts more than 30 million users! On the other hand, it means you must do something to set yourself apart just a little from the crowd.
5 Reasons To Advertise
John Jantsch, author of Duct Tape Marketing, is a widely respected business consultant and an expert on marketing your business with a very limited budget. On his Duct Tape Marketing Blog, John points out 5 reasons to advertise. Here they are:
Advertising is the only medium you can control. – You can control timing of your advertising. The upcoming holiday shopping season is a prime example. Advertise when you have the greatest chance of success or something really special to offer… or when you really need to get some sales now!
Advertising allows you to target ideal customers only. – You're not running a Walmart here. You don't have something for everyone. Your products serve a niche market and by choosing where you advertise you choose who you're advertisement will reach.
Advertising creates awareness of your content – Jantsch is talking about promoting your content marketing (blogging) but it can just as easily be simply that advertising creates awareness of your products… of you!
Advertising adds credibility – Don't you agree that when you see that a business is advertising that you assume they're making money? We all do that and it's good for business because when people assume you're successful the logical next assumption is that what you offer must be well worth what you ask in return… if it weren't, nobody would buy it and people are clearly buying from you. Advertising creates a beautiful cycle of sales!
Advertising amplifies everything else you do! – When you advertise more people take notice. Journalists and bloggers find you through blog advertising, readers find you and like you on Facebook which expands your reach into their circles, professional buyers find "the next big thing" by clicking through ads. It increases your impact all around.
Advertising Fuels Your Business Journey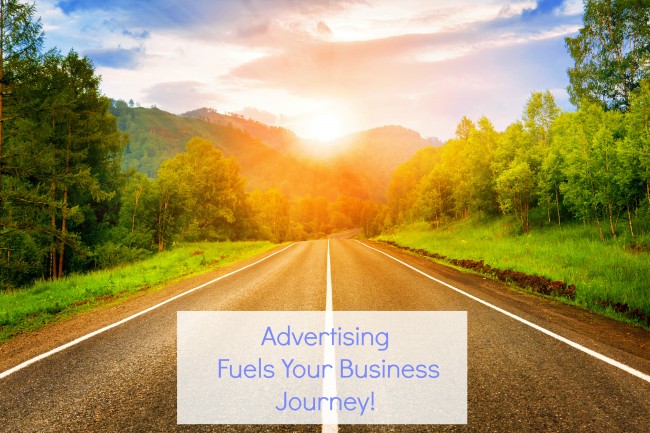 If you imagine the growth of your business as a wonderful and exciting road trip, think of advertising as the gas in the car.
You really don't see it much and once you've bought it you don't think about it a whole lot until you start to putter out. But you need it to keep the journey going and, in the end, it's worth every penny.
Getting Customers To Take Action
Just like you have to put the right type of fuel in your car if you want it to run well, the same is true for advertising. You need to reach the right people in sufficient quantity, and then your advertising needs to get those people (at least some of them!) to take action.
Where are the right people?
How do we get them to take action?
These are the questions we'll be answering in the next article.
To get the next article in this series, be sure you're on the EverythingEtsy.com Advertising Opportunity Email list…. do that here.
Being on the email list will get you the earliest possible access to the next EverythingEtsy.com Quarterly Ad Sale which will include Black Friday and a super-exciting new way of sharing your shop with the community.
Let's Talk!
If you've had a good advertising experience that might help others in the community really see the value of advertising, please share it! If you've got a question, ask away!
Leave us a c

omment and share your thoughts. And go ahead and hit that like button while you're at it! Thanks!
[social_share/]
[fbcomments]