Updated July 11, 2011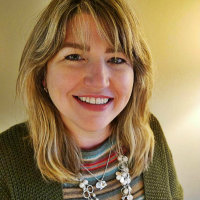 Hi! I'm so excited that you want to know more about us. I'm Kim, and I'm the girl you see most often associated with EverythingEtsy.com, but the truth is it's a family affair with my husband Tim, and our two sons, all getting involved.
What started out as a little idea has grown into more than we ever imagined. Believe it or not, EverythingEtsy.com and related sites such as the Everything Etsy Directory, and Etsypreneur.com are now the biggest part of "what we do". We work on the blog and other sites every day, no matter where we are, and often at crazy hours. We're a little bit addicted to it.
I sometimes ask myself how that happened? We not only publish this blog about all things related to Etsy and selling on Etsy, but we also have Etsy Shops of our own and have grown from there to even having our own eCommerce site, KimberlyLayton.com. (hosted on BigCommerce, which we recommend highly)
How did Etsy become such a big part of our lives?
I'll tell you the bottom line, and then if you still want to know more you can read on for the long version of our story.
The bottom line is this: We recognized that Etsy represents an opportunity for smart, creative, and energetic people to literally change their lives for the better. We started to see mom's build Etsy shops that actually provided an income. A real income, no smoke and mirrors, no get-rich-quick (it's anything but quick), no crazy new ideas.
Just a crazy new way of selling your ideas!
A crazy new opportunity to work from home (or anywhere)!
A crazy huge potential audience! (Etsy is in the top 200 most visited websites in the world!, The top 50 in the US!)
A crazy exciting group of creative people!
We realized that for a huge number of people, Etsy would be the catalyst to open up a whole new world of opportunity. We wanted to be a part of that. We wanted to help inspire people to action. Encourage them to reach out and do it. Show them that they can.
So that's what we do. We inspire and equip people worldwide to realize their hopes and dreams by selling their creativity online. And when we aren't doing that, we talk about all the pretty-awesome-inspired-creative-vintage-cool-happy-thoughtful-amazing-wonderful stuff you can find on Etsy. And when we aren't doing that, we talk about where to find suppliers, tools, and new ideas. And sometimes we talk about our dog.
There's the short version. If you're still reading and want to know more, grab a cup of coffee and let's roll with the long version!
About Our Family
One thing that anyone who knows us will tell you is that you rarely see one of us without seeing the rest. We're a pretty tight group and have gotten even tighter since we started working online. (we don't see anyone else some days!)

We started our journey to working online somewhat by chance. Well, sort of by chance. We believe in God's guiding hand, so chance is really the wrong word. Maybe it would be better to say "by surprise!".
Tim had always been a remodeling contractor and he did pretty well at that. Well enough that we were able to travel a great deal. As a family, we traveled by air as far as Australia, New Zealand, and the UK. Those were amazing trips and we'd happily hop on a plane tomorrow to do them again, but the money isn't there for that anymore (read on to learn why!).

As great as those foreign trips were, it was our USA travel by motorhome that impacted us the most.
In a span of about three years, from 2005 until 2008, we put about 40K miles on our motorhome visiting every state in the US except Alaska and, of course, Hawaii. Tim was still running his business, so the most we could be gone was about two weeks at a time. So we covered the states over the course of four or five big trips.
We live in Florida, and our farthest point away was Orcas Island in the San Juan Islands. That's covering some highway!
One night (December 27, 2006) we were rolling through Houston, Texas at about 2:00am and Tim and I were talking about how much we loved to travel and how he wondered if there was something else he might want to do with his life, other than being a contractor. He had gotten into the construction business through a family business and had never done anything else, so he had always been curious.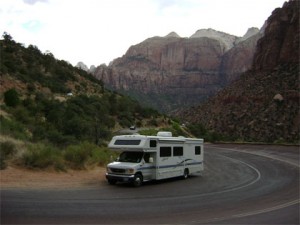 We got excited about the idea of selling our home in the Tampa area along with most of our stuff, and striking out in the motorhome in search of some new and magical idea that we thought God would point us to. We were believing in the idea that you don't have to see the whole staircase to take the first step.
The plan was to pretty much live in the motorhome full-time for between six and twelve months of consecutive travel. We had a little weekend place in Punta Gorda that we could go to for a respite from the road, but we planned to be on the road constantly. (you can see some of our Punta Gorda home here, and here.)
Here's where things got interesting. We thought we had more than enough money to do this. Our home in Tampa is a big house on a ski lake and was all remodeled and in great shape. We thought we could sell it for big bucks, pay off our loan, and still be left with a few hundred thousand dollars! Oh what a change of fortune lay in store for us…
No sense going into all the slightly depressing details, but the bottom line is that just about then, the bottom fell out of the economy, starting with the Florida real estate market, and our "nest-egg". It dropped faster than we could accept reality and we never lowered the price in-time. We got few offers because financing was hard to find and great houses were available for great prices.
Eventually, the price got so low that we couldn't afford to even pay off the mortgage, and by this time we had gone through our savings.
Did I forget to mention that we closed the construction business and moved to the little house in Punta Gorda before putting our house on the market? I didn't want to live there while it was for sale, and we figured it was a sure thing…
So no construction company, no income. We didn't reduce expenses because we still thought it was all good. Even if the house sold for much less than we expected, we would get at least $100K cash. We kept the multiple car payments, we kept the motorhome payment, we kept pretty much all the bills. But we gave-up the income. You might call it a mistake.
But the funny thing about mistakes is that time sometimes paints a different picture. Often, things work out better in the long run. You never know, unless you try.
Early on in all of this, I decided to start a shop on Etsy. I started selling felt hair clips and was really excited when I got my first few sales. I thought it would be great to be able to make a little money while we traveled the country. It seemed like a fun way to pass the time while riding down the road.
Doing exactly what many of our readers are doing today, I started researching how to do it right. What did I need to do to be more successful selling online? (I always knew it was up to me to get traffic to my shop) Just as we will tell you, the first answer was (and is) "start a blog". So we did.
I still remember Tim asking, "what's a blog?" What a fateful question! Being the type of guy he is, he did a little research and found that you could either have a hosted blog (like blogspot.com blogs) or a blog on your own domain, like this one, a WordPress.org blog. We liked the idea of having our own .com domain, so we jumped into learning WordPress from the ground up with our first blog, ForeverWherever.com.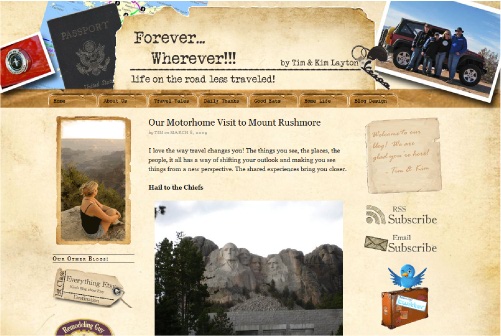 We both loved it. We both liked the writing part of it and Tim had forgotten how much he loved computers when he was a kid. He pretty much buried himself in learning how to "do" blogging. Within just a few days of getting foreverwherever.com going, we had the idea and secured the domain for EverythingEtsy.com, and a few days later he decided to write about remodeling at RemodelingGuy.net.
That was two-and-a-half years ago! Between our various sites, we've published over 1000 posts, over 500 right here at Everything Etsy alone. We've learned and learned and learned! How to write for blogs, how to build blogs, how to sell advertising on blogs, how NOT to do things on blogs. Tim's learned more about the programming side of it than I'll ever want to know. Our son's have learned how to code in HTML and how to write blog posts. It's been a lot of learning.
And we're still learning every day.
From the time we started blogging until now has been an interesting and challenging time. It's been fun and full of wonderful new things, but it's been hard too.
We've got this dream and if anything, it's grown stronger and bigger over the years. The dream to be able to earn an income while traveling has grown stronger as we've had to spend a few years without traveling.
But the bigger draw, the real reason we can't stop doing this, is that the reality of the sheer magnitude of opportunity online has settled in on us. For you that opportunity might be in designing a home-run product and seeing it top the charts. We're doing that too through our various Etsy shops and sites.
It's also in helping others with their dream through this website. There are so many people out there just yearning for an idea that will give them hope for a life working for themselves doing something that they love to do.
Just like that night when we were riding through Houston. We didn't know what else we might do, we just thought it might be nice to try something else. We hoped that something would present itself.
We believe with all of our hearts that Etsy is the starting point to that kind of new idea for tens of thousands of people. Millions might try it. But they won't all make it. However, some will. Some will do it right. Some will pour their heart and soul into an idea and put the effort and every ounce of smarts and creativity they have into building this new business online.
If that's you, then you are why we do this today. We want to help, and we can.
We can help in lots of ways:
First, there is the blog with posts on so many subjects, use the menu and big buttons above to find your way around, but here are a few of the main blog categories:
That's just some of the blog. There are over 500 posts, so take your time looking around and subscribe to keep up with new content added daily.
Advertising
We can also help you get the word out about your business through advertising here on EverythingEtsy.com and through listing your shop or supplies website in our Everything Etsy Directory.
Community
Sometimes, the most valuable thing is support from someone who knows what you're trying to do and understands it. Everything Etsy has grown beyond just a blog into more of a community. We built a community site called Etsypreneur.com and there is also an Etsy Team with the same name on Etsy. Both of these can be very helpful to Etsy sellers experienced and new alike.
Social and Fun!
Truth be told, Tim is the one who's always yearning to talk about business. I like to mix in a little fun (for him, business IS fun!). Join us on social media sites Facebook, Twitter, and Pinterest to stay connected with my lighter and more colorful side!
The Future…
If there is anything this whole story should teach us, it's that we really don't know exactly what the future holds. All the planning in the world can't prepare you for some things. Sometimes, stuff just happens and you deal with it.
But you can make plans, and you can build dreams and then watch as those dreams become real. That's one of the things faith is all about. I read somewhere that faith is believing in that which you have not seen, and the reward of faith is seeing that which you believed.
So we have faith, that we're going to do some awesome things through EverythingEtsy.com! We've learned that it's better to announce things when they're actually done, not when you're still doing them or planning them, so stay tuned to see what's coming.
The main goal is very straightforward: We inspire and equip people worldwide to realize their hopes and dreams by selling their creativity online.
Subscribe to EverythingEtsy.com by RSS
Get EverythingEtsy.com posts by Email
Like Us on Facebook
Follow @EverythingEtsy on Twitter
Follow EverythingEtsy on Pinterest
Visit the EverythingEtsy Directory
KimberlyLayton on Etsy
FlashyFish on Etsy
ForeverWherever.com
RemodelingGuy.net
CrazyTreeMedia.com