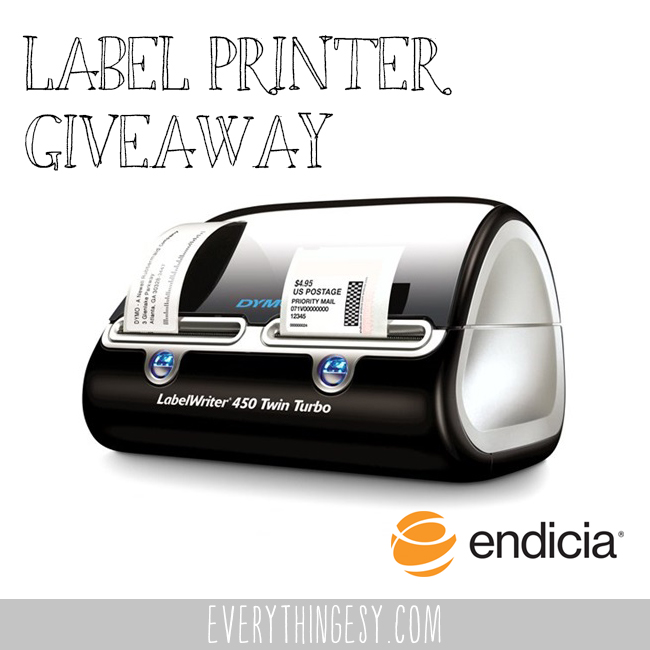 If you sell anything online though Etsy or anywhere else, then you probably do lots of shipping and mailing. We sure do and getting our hands on a LabelWriter XL printer from Endicia a few months ago made that process so much easier and faster for us. We love our label printer.
But what if you ship and mail packages of various sizes and regular envelopes with standard postage? Printing out a huge 4×6 label for an envelope isn't really very efficient and it certainly isn't an easy fit most of the time.
Not to worry, there is a label printer designed for you!
Endicia recently sent us a LabelWriter 450 Twin Turbo printer to try out and we have a brand new one in the box to give away here on the blog.
When I tried it, I was impressed with how easy it was to set-up, to integrate with the Endicia software, and to print standard printable postage on at the same time. Easy peasy and very effective.
To get a better idea of how these label printers and the Endicia software works, check out these videos we've done on the subject.
Use Endicia for Brand Building with Custom Shipping Labels
Shipping Label Printing Tips for Endicia Users
And Endicia is still offering EverythingEtsy.com readers a free scale and a 90 day free trial… Etsypreneur.com/EndiciaOffer
Enter the Label Printer Giveaway Here
a Rafflecopter giveaway