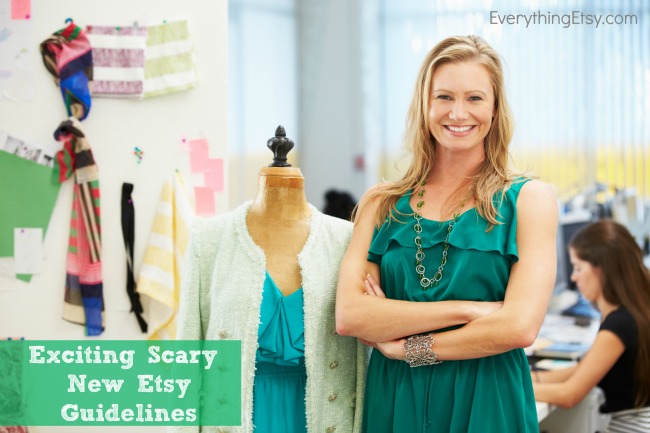 You've probably already heard that Etsy made some huge changes to the guidelines that determine what is offered for sale on Etsy and by whom. Prior to these changes, Etsy had very restrictive policies that prevented anything resembling mass-production. Everything in the "handmade" category (vs vintage or supplies) was meant to be made by one person in general with only a helper or two on occasion allowed. Or at least that was the most common way of reading the famous Etsy "Do's and Dont's". The reality has been a little more confusing and the seemingly infinite number of definitions of "handmade" has been a point of contention amongst the community for years.
Hiring Help, Outsourced Shipping, Manufacturing Partners — No Problem
Etsy's new guidelines are designed to clarify "what can be sold on Etsy" in a big way while opening up the marketplace to a wider array of unique and creative items. Under the new guidelines Etsy sellers are allowed to hire more help (locally or remotely), outsource fulfillment (warehousing, packaging, and shipping), and even team up with manufacturers to "make" (even in bulk) all or part of their unique creations.
This is a massive change that will probably upset some in the Etsy community while stirring up a new sense of opportunity and hope in others. We're trying our best to fall on the side of hope and, for the most part, we think this is a great change for Etsy.
We've been a part of the Etsy community for many years and have always seen Etsy as a place of opportunity. We've written about that opportunity countless times and we've never waivered from the idea that Etsy is a wonderful place to start an online business; very likely the best place of all. We've even discussed the idea that it was a perfectly sound business plan to start off from day one with the intention of always selling on Etsy and never bothering to sell anyplace else.
But there has always been this giant obstacle to growth. You can't hire much help, you can't outsource any part of your operation, you can't take advantage of modern manufacturing tools that might streamline your process and help your business grow. The truth has always been that for most Etsy sellers who had a plan/dream for growth, that plan always led them off of Etsy eventually. It almost had to.
This made it challenging for people to justify investing in building their brand on Etsy. It made it discouraging to know that no matter how much you sold, you personally had to make it all, even if it meant working all night long during the busy times. For sellers who were living "on the edge" of the Etsy guidelines it was even more of a problem because they never knew if they might get shut-down overnight as a result of some competitor's complaint.
Most of the time, the sellers impacted by these challenges were "makers" in every sense of the word. They dreamed-up, imagined, designed, created, inspired, and otherwise breathed-life into the things they sold. They might have used a 3D printer, a laser cutter, or a bunch of parts off the shelf of a big-box store to do it, but they're makers nonetheless and they undoubtedly brought the "right" kind of offering to the marketplace on Etsy.
These changes in the Etsy guidelines take the focus away from the "how do you make it?" and focus much more on the "did you create this, is this a product of you, the maker, the designer, the inventor?"
The word Etsy has chosen to most succinctly define the guideline is this:
Authorship
Authorship is the process of inventing and tweaking and making. It doesn't require that you hand print every page of your book on your own press at home. You can send it out to a print shop if you want to… and if you think you can sell enough copies to justify the cost. Doing so doesn't make your book any less yours or any less special.
Overall, we think this is a good change and we agreed with much of what Etsy CEO, Chad Dickerson, wrote in a recent post on the Etsy News Blog:
Etsy sellers are at the heart of a growing revolution. More and more people around the world are interested in supporting local, mindful, independent businesses. Buyers increasingly want to know where their goods come from. At the same time, makers have access to an ever-growing array of methods to create their items, everything from laser cutters and CNC routers, to manufacturers who do small runs of high-quality items. Artists are integrating these new technologies with some of the oldest hand-making processes in the world in surprising ways. Makers are banding together to collaborate, sharing workshops and tools, and building their own production facilities.

We believe these trends are going to continue and we want Etsy to lead the way.As we reimagined our policies, we wanted to give Etsy sellers the ability to take full advantage of all these incredible developments.
The Scary Part…
It seems a foregone conclusion that unscrupulous manufacturers who mass-produce items in ridiculously low-cost (and often morally corrupt) ways will be quick to try and take advantage of these changes. It's easy to create a fake persona and make-up a false but interesting story to promote items that are anything but unique and individually authored. It will be interesting to see how well Etsy controls this.
Nobody wants Etsy to look like Alibaba.com and thankfully the people who probably want it the least are the ones with the "delete" button. Etsy, Inc. is a for-profit business run by a team of people who know exactly why Etsy has had the "magic formula" of success all these years. That success is buyers and sellers like you and like us. It's real people with real stories and really amazing imaginations. People who create beautiful and inspiring things you can't find in the store down the street.
Etsy isn't going to let anything change the heart and soul of the community of people who buy and sell on the site 24/7.
Etsy will remain creative, it will remain unique, and odds are that these changes to the Etsy guidelines are going to make it even better.
The Takeaway
So what can you do with this information? What does this mean to the average Etsy seller?
We think it means opportunity to grow. We think it means security to invest in your brand. We think it means a new set of possibilities as to what you can make and how you can make it. Look closely, and you'll see an exciting road ahead.
That's what we think… what about you? Share your thoughts in the comments!