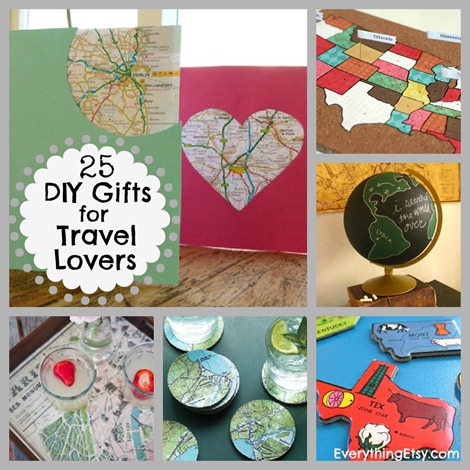 25 DIY Gifts for Travel Lovers
Looking for cheap and easy gifts for all the travel lovers you know? Maybe you need a little something for yourself to remember your last vacation? Well, you will LOVE these DIY gifts that you can make in minutes!
I'll admit that I could start traveling and never stop…it's an addiction, but I'm really alright with it. Maybe you're like me or you have family members that you never know where there're at this week. These are the kind of gifts they will treasure…trust me! Maps and memories can create fabulous handmade gifts and home decor that money can't buy.
These easy gift tutorials are perfect for quick afternoon projects. Don't miss the fabulous gift tags or string wall art!
Why spend a ton on gifts when you can make personalized gifts super cheap???
I big puffy heart handmade gifts and these tutorials make it easy to create something special for all the travel lovers on your holiday shopping list.
If you love creative links, please subscribe to Everything Etsy! New subscribers make my day!
Thanks so much for all your pins, tweets, stumbles, Facebook likes on my previous handmade gift posts! You are fabulous friends!
Have you made any handmade gifts lately? Have any planned? I'd love to hear about them in the comments!
~Kim
Looking for more handmade gift ideas??? Check out these posts…