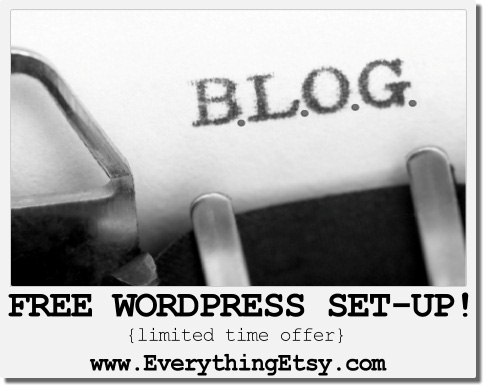 (Special offer by Tim Layton – Kim's husband and developer of EverythingEtsy.com)
Holy Cow! When did setting up a WordPress blog get to be so confusing?
When Kim and I set-up our first blog it seemed so much simpler than it seems now, yet it was still a daunting task that I entered into with some apprehension, to say the least.
I had never done a thing with websites (except pay web guys too much money). I didn't understand the most basic words like "hosting" or "domain". In fact, my first words in the conversation Kim started about all this were "What's a blog?"
I kid you not.
That was almost four years ago now and in that time I've gone from knowing nothing to working on websites, blogs, and Etsy shops so much that I'm pretty close to a full-time "web guy" myself. I'm not sure how I feel about that moniker, but the truth is that I love the opportunity the Internet represents to anyone who will put the time and effort in.
What I am sure about, and of this I have no doubt, is that having your own website/blog at your own domain is absolutely essential to success online. This is true no matter what your online business is.
The reasons why are just so, so, so numerous.
Control and Flexibility
Long term SEO benefits
Ability to expand and grow
Professional appearance
The list literally goes on and on. My purpose in writing this post today isn't to convince you that you need this. If you have long-term plans for online business then you probably already feel you need your own domain, and you're right.
Today I Want To Get You To Move Forward
Knowing how important a website is to success online, I'm always looking for the easiest way to teach our Etsy seller readers how to do it.
You know what? Every time I look it seems like it gets more confusing.
The reason is that the options list is growing at breakneck speed. So every time you look at the idea of starting your own domain, the choices you feel you need to make get more and more overwhelming.
So let's change that right now. There are really only two choices you need to make to get started.
You want to do this. – The first choice is making a commitment to getting your own website/blog going and then learning to write on it, run it, improve it, and make money from it. Step one is a decision.
What are you going to call it? – You need a domain name, such as EverythingEtsy.com or RemodelingGuy.net (my remodeling website)
That's it. The rest is simple because I'm going to tell you exactly what we would do if we were starting out today and then I'm going to point you in the right direction.
Then I'm going to set up your site and I'm not going to charge you a dime to do it. And you won't owe me anything later either.
HostGator will Pay Me
HostGator is the hosting company we use at EverythingEtsy.com
They rock. They have great (cheap) prices. They do what they say they will do.
HostGator is a web-hosting company. They own the computers (servers) that your website will live on. They take care of the servers and keep them working 24/7/365 so your website will be available around the clock, around the globe.
They rent you space on the server to use for your site, for getting emails at your domain, etc. They charge less than $10.00 per month for that and that's what web hosting is in a nutshell.
If you buy Hostgator (which you should) through our affiliate link, we'll get a commission. That commission doesn't cost you a dime extra but it will compensate me for the time required to initially set-up WordPress and your email addresses for you, which I'll do personally.
You Will Still Have Lots to Learn
A basic WordPress installation isn't all that pretty. (Although you can make it very nice just by posting pictures on your site) It probably won't have all the cool features you want like Pinterest buttons, and email sign-up forms. Not at first anyway, but you'll learn.
The truth is that there is a lot to learn about setting-up, designing, and running your own website and/or blog. It's going to take some time.
But the first step is exactly that, the first step. There is no reason not to take it right now.
Once your site is set-up, you'll have questions. Email me and I'll do my best to answer them for you or point you in the right direction for tutorials or resources.
The only way to do this is to learn as you go. It's the way I did it and in hindsight I can see that it is the only way that really sticks. So let's go. Right now. I'll take the first steps with you.
Only 1 Penny to Start Using Coupon Code
When you sign-up with Hostgator (make sure you use our link below) choose the "Baby" plan because it allows unlimited domains, which you'll want once you know what you're doing. If you're like me, you'd rather pay monthly at $9.95 than to pay far in advance for a small discount.
Use coupon code HGC25 to get 9.94 off, making your first month just 1 penny.
You'll also need a domain name if you don't have one already, which is $15.00/yr with Hostgator. If you already have a domain name, make sure you have access to the account under which it is registered so that the domain can be pointed to your new hosting account.
How To Get My Free Help
I can only afford to offer this free help to readers who purchase Hostgator hosting using our affiliate link here:
This is our affiliate link to Hostgator (it will open in a new window)
Once you complete the sign-up process and pay your penny (or your $15.01 with domain registration), you'll get a welcome email with your domain name, nameservers, and account information such as password and username. Forward that email to me at tim@everythingetsy.com
I'll verify that you made the purchase with our link and then contact you via email to verify your needs and a few questions such as Blog Title, email addresses, etc.
Remember I'm just setting up WordPress for you, not adding custom features and themes etc.
When I'm done you'll be able to visit your website just like any other site and you'll be able to log-in to your WordPress site. You won't even have to look at your hosting control panel if you don't want to.
Just Do It!
Hostgator doesn't require any long-term contracts. This is one penny to start and then you'll pay the monthly rate for as long as you keep that hosting plan (currently $9.95 a month).
You don't pay me anything.
This changes nothing with your Etsy shop. (though you can link to it from your new site)
You don't have to stop your Blogger, Tumblr, or WordPress.com blog (though you can move that content over later when you're ready).
You don't have to adhere to any schedule as to when you'll take the next step.
No excuses left. Take the first step!
I'll do my best to answer any questions in the comments and as always, thanks for being here today! I hope this offer proves helpful to you.
~ Tim