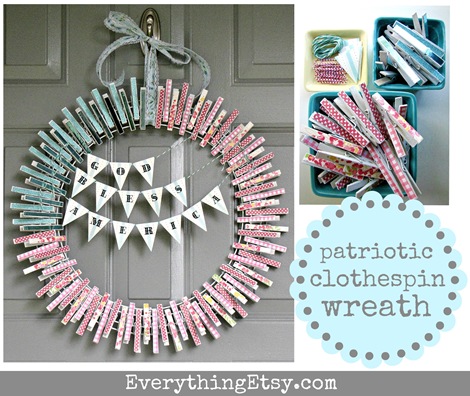 The summer heat is on and it's time to add your own spark with a sweet patriotic clothespin wreath!
I have a project I am sooooo excited to share with you guys today!
I'm head. over. heels. in. love. with how this turned out…i can't even take it 🙂
i've been lovin' on the clothespin wreaths I've seen around blog land
and wanted to try my hand at one just in time for the 4th!
come on…let's make this together ♥ really, it'll be fun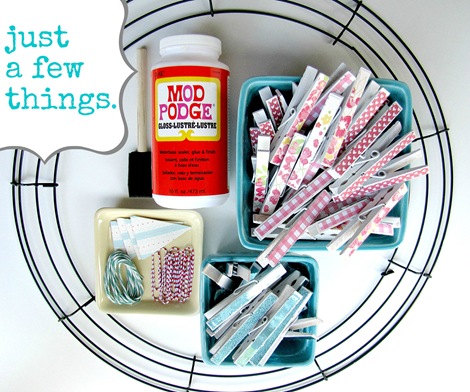 this is such a basic project, there's not many instructions
and the few supplies needed are easily found at any craft/home improvement store
Supplies:
1. clothespins (used 89)
(I found my clothespins at Walmart for $1.88 for 100 count…super cheap)
2. wire wreath form
(mine measured 18in. from top to bottom)
3. Mod Podge
4. scrapbook paper
5. twine, paper buntings and other trinkets that makes you happy ♥
6. spray paint (not pictured)
this is optional if you desire an other-than natural wood color for your clothespins
If you're going to spray paint them…go ahead now…
then you can cut your paper during drying time 🙂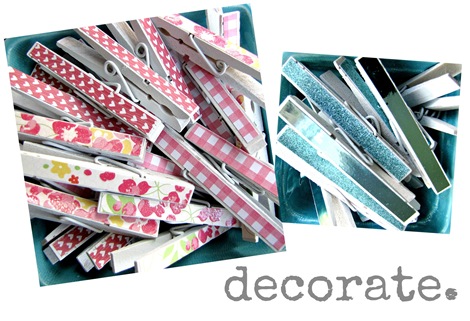 ~ decorate ~
i simply cut strips of paper that would fit on the flat part of the pin then used Mod Podge to glue is down…easy right?
the paper that's pictured is from 2 different mat stacks from Joanns, this one & this one
used blue paper on 24 to form the "star" portion of the wreath, pink and red on 65 for the "stripes"
but you can use any paper/color scheme that you like 🙂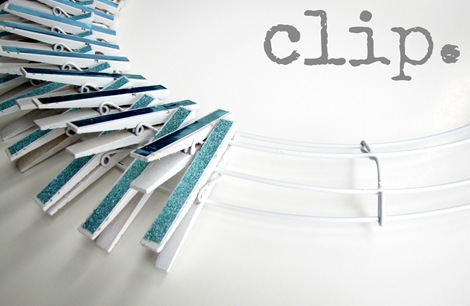 ~ clip ~
arrange the clothespins on different tiers of the wreath for a fuller look
starting with the blue, fill one quarter of the wire form
fill the rest with the red/pink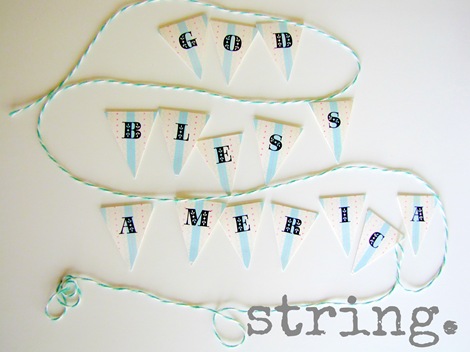 ~ string ~
make a bunting from paper cut into long rectangles, folded in half, then trimmed to a triangle shape…use rub-on letters or stickers
thread twine through …i taped the twine to the inside of the triangles to keep them from shifting
(i didn't end up using those cute stripey paper clips that were in the picture above, sniff )
wrap the ends of your bunting around the clothespins however
you'd like to see them drape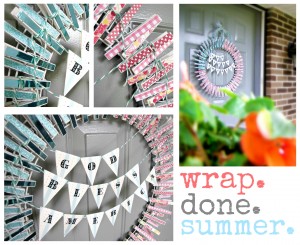 ~ wrap.done.summer ~
all done!
isn't it too cute for cuteness?!
add some ribbon or hang it without…on your front door or even somewhere inside…lovely!
Happy Stars & Stripes!
much loves ♥
Jaime
My name is Jaime from Raising up Rubies ♥ stay at home mama to 2 girls and wife to a handsome hubby

…my love is for all things crafty and i feel so blessed to have a super cute space to play & create in…
She's a super talented contributor to Everything Etsy! You can find out more about Jaime on her blog…Raising Up Rubies.
Have you made anything to decorate your door for the summer?