We do quite a few giveaways here at Everything Etsy so the process of picking a winner has become kind of second nature. But I remember a time when I really didn't know where to begin, so I thought I'd share the process for anyone who might be at that point.
Comments Numbers are Key!
Most WordPress themes show comment numbers. We've tweaked our theme to make the comment numbers really big and pretty. See below: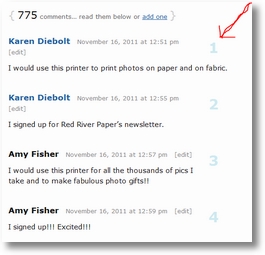 These numbers are really key because they are the basis for the drawing, as you'll soon see.
Random.org
The next key to a nice and smooth drawing is the use of a random number generator online. The one at Random.org is great because it allows you to tell it exactly what parameters you want. In the case of this drawing, I'll be choosing two winners, so I need two random numbers between 1 and 775 (the total of comments/entries on this post).
(the images below show the "integer sets" option because we need two winners, for one winner the number generator on the home page works fine)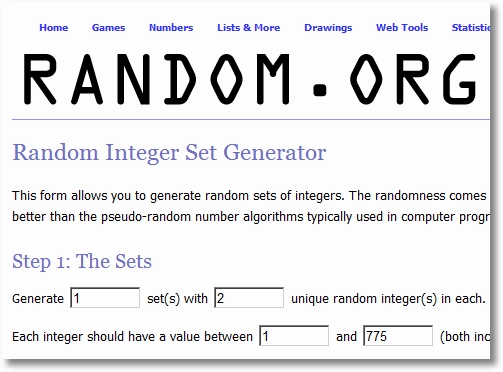 Enter the parameters and then hit the "get sets" button. You'll see the results…
Now we take a look at the comments associated with those numbers:

It's clearly a good idea to follow me on Twitter!
When I can, I check to make sure people are actually doing these things rather than just leaving a comment saying they do, so you might want to check to make sure your winners are following you on Twitter if that's why they won.
Check Winner's IP Address in Comments
The other security check I'll do is to make sure my random winners haven't entered fifty times using different names. I can do that by doing an IP address search in WordPress.
If you're logged-in to WordPress, you can just click "edit" on the comment itself to get directly to the comment in your WordPress admin area. Once you're there, you'll see the commenters email address. Highlight and copy that email.
Then go to your main comments dashboard by clicking the word "Comments" on the left side of your WordPress dashboard.
At the top of the main comments page, you'll see a search box that says "search comments". Paste the email address in here and you'll get all the comments from that email address.
The first thing to check for is if they entered this particular contest more times than is allowed under the same name. If so, they can't win, it wouldn't be fair. If that's all clear, then you can check to see if they use more than one name by doing another search for the IP address which is now shown under the email address in the results on your page.
If they're not playing fair, you'll see a bunch of names with the same IP address and you'll have to draw again. (It's possible to have more than one person using the same IP address, so you have to use your judgment as to whether or not the person is gaming the system or if it's really multiple people living in the same house)
Both winners on this giveaway are legit so we're good to go!
Posting Giveaway Winners in the Original Post
I used to write a new blog post every time we announced winners. You can do that, but I would also go back to the original post and add the winners to the top and bottom along with a line at the top saying the giveaway is closed. See: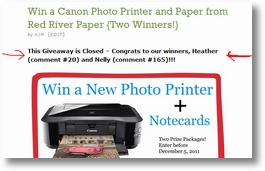 You can "close comments" but that will hide all the existing comments (I think!) so then people can't look at the comments or click through to the commenter's site. So I leave comments open.
Then just notify the winners by email, and in this case we'll notify Red River Paper too so they can send off the awesome prizes!
So there you have it… maybe not the most exciting post ever, but hopefully helpful to anyone looking to get started offering giveaways on their blog.
Have a great day!
~ Kim