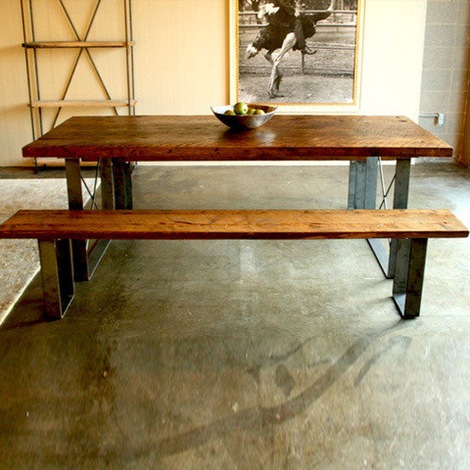 {robrray}
Reclaimed Wood for Your Crafty Home
Finding the right table for your home can be as easy as a click of a button. Decorate with Etsy and find home decor treasures that you might not find at your local stores while having it delivered right to your door. No need to borrow a truck…ha!
This is a beautiful handmade dining table set built in Downtown LA by robrray . The reclaimed wood is from architecture in NYC from the late 1800's and early 1900's. This is a table that will last forever and never go out of style!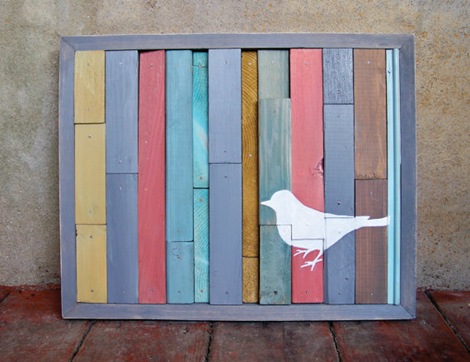 Just need a touch of art to make your room complete?? You'll love the reclaimed wood bird series from Rustic Wood Originals.
It's created with numerous reclaimed wood pieces, all individually cut, sanded and painted. This lovely wall art will give you that pop of color you need…and ya gotta love the little bird!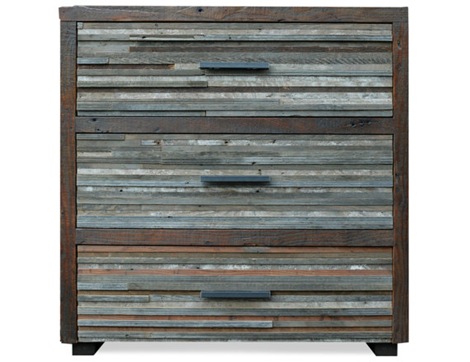 Need something a little rustic, but modern? Check out this beautiful three drawer chest from Blake Avenue. It would be a stunning addition to your living room or bedroom.
Blake Avenue has this to say about the quality and environmental impact…
Something often missing in the discussion of environmentally responsible furniture is the principle of longevity. Here at Blake Avenue we love making the most out of the natural resources the earth provides. We not only celebrate the natural beauty of reclaimed and recycled materials, but also seek to create designs that are both timeless and structurally fit to last a lifetime.
Most of the hand selected reclaimed wood that goes into Blake Avenue furniture is recovered from architecture that dates back 80 to 150 years. We see it as our responsibility to preserve this precious material with design and craftsmanship that will last as long as it is old. Every piece has its own unique characteristics; traces of rough hewn saw blade marks made by steam powered machines built before our grandfathers were born, oxidized holes left behind by square cut nails, a beautifully nuanced patina brought about by years coexisting with natural elements, these timbers carry with them a history of use and production that will never be repeated.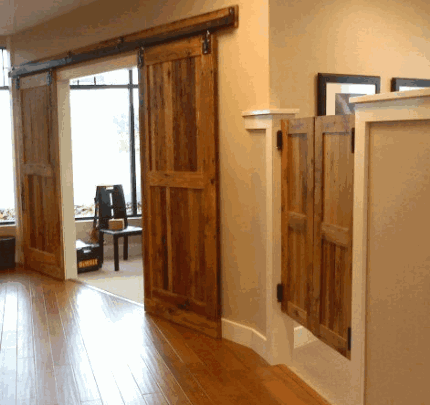 Add the charm and beauty of reclaimed wood to your home with custom doors and even hardwood flooring found right on Etsy. Isn't that cool? Historic Flooring has a wide selection of reclaimed wood to help you get the look you'll love.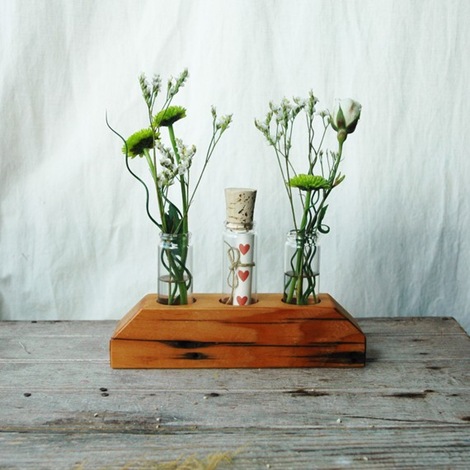 How about these Message in a Bottle Vases?? I want one and I know a few people of my Christmas list that would be thrilled to unwrap this sweet set of vases. The handcrafted holder is perfect!
The wood is from antique floor joists from Philadelphia houses built in the 1800s. Peg and Awl have a wonderful selection of small home accessories to treasure.
Do you have any reclaimed wood accessories in your home? We have some amazing chalkboards made by my sweet husband, Tim. It's always fun to take someone's trash and create something beautiful!
To see inspiring photos of reclaimed wood used in bigger things like beams and beautiful floors, check out Reclaimed Wood at RemodelingGuy.net.
~Kim
Have you decorated your home with beautiful Etsy finds? I'd love to share real-life rooms here in our Crafty Home section. Send me an email for a chance to have your home featured.