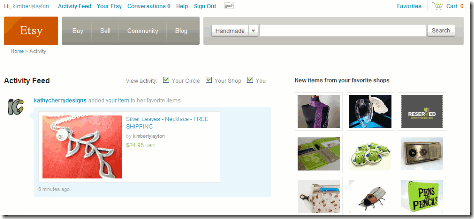 If you've already discovered these new features today, you might be too busy playing with them to read this post! It's awesome to see Etsy making all these new changes!
Here's the scoop…
Visit a few of your favorite shops and click on the "Add to Circle" button on their profile page. This will add a new member to your circle and get you started.
Head back to your home page. At the top of your page you'll find "Activity Feed" to the right of your shop name…click on it!
You'll automatically be able to see a stream of the shops and items your friends are adding to their "Favorites" or buying from at that very moment! This will keep you busy for awhile!
When you sell an item or someone marks one of your items as a favorite, you'll see it right away.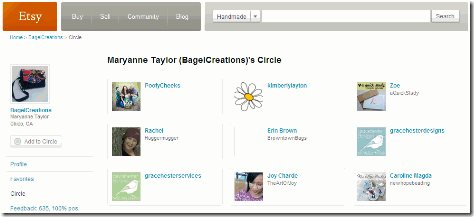 Maryanne from Bagel Creations is off to a great start!
The more members you add to your circle, the more fun it will be!
Want to know more about it? Here's a few links to answer all of your questions…
Have you had a chance to try it yet? What do you think???
~Kim