"Most Popular Article" status is a sure sign that Etsy continues to offer a promising future for both buyers and sellers.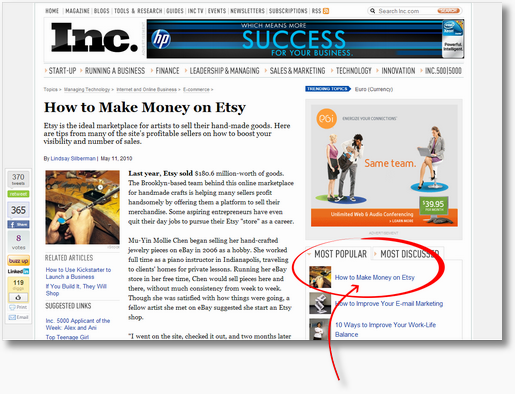 A recent article from Inc. Magazine has been getting a good bit of attention and is now listed at the top of the sites own "Most Popular" section. The article offers up a mix of general information on Etsy for those that aren't yet familiar with it, and a few good tips for Etsy sellers trying to make a bit more income.
A Short List Of the Tips
Be unique in your product offerings
Find a niche
Get great photographs
Nail your product descriptions
Think through those titles
Have at least 60 items listed in your shop
List frequently
Get involved in the community
All good tips that have volumes more that could be said about them.
One of the interesting points made was that shorter item titles do better than longer ones (it seemed to flow into context of search results). I don't know what the perfect length for a title is, but what is important is that the first few words of your title carry more weight in terms of SEO than the last words.
So be your title long or be it short, make sure the important keywords are first!
The Press is Great News
The more press like this the better. As Etsy gets more articles and more awareness in the media (not like it's a huge secret now) the closer "Etsy" will be to becoming a household name like Ebay or Amazon.com.
That's good for all Etsy sellers in terms of traffic, and improved marketability for your shop, both online and off.
Check out the Inc. Magazine Article about Etsy and let us know what you think.