Are you using the About Page on your Etsy shop to the fullest?
The About Page provides a wonderful opportunity for you to reach out and touch your shop visitor and turn them into a paying customer in the process. People tend to do business with people they like and you can use that About Page to make them feel the love! It absolutely can make a difference in your conversion rate and improve your sales substantially over time.
Here are a few tips to help you make the most of your Etsy Shop About Page:
Include Beautiful, Personal, and Inspiring Pictures — The most prominent feature on the About Page is the image slideshow at the top. Use it wisely. Show some pictures of yourself, it builds a connection with your visitor. Show a picture of your team/helpers/family/pets if they are involved in your process. Show your work area or your local surroundings so buyers can get a feel for where your items come from. Show some of your very best products and your very best product photos; put your best foot forward.
State the benefit you or your items provide front and center — One of the key tasks in writing good sales copy is getting the most important points out first and doing so in a way that makes readers keep reading. By starting off with the benefit you provide from the beginning, you'll catch the immediate attention of the people who are most likely to buy what you sell. Use your "Story Headline" section to pull readers in.
Use as few words as possible, but tell the story — It's worth spending some time on a few drafts in order to cull your copy down and remove the extra words. There are always extra words. But don't cut so much that you're taking away from your story. Be sure to cover things like:

Why you love to make/sell the items in your shop
How you got started on this path
What your creative process is like (from idea to making to shipping)
Who you are, your interests, passions, and causes
What others have said about your items and you (testimonials)

Use Every Option — Etsy gives you up to three links out to social media and your blog… use them! Etsy gives you the opportunity to share a short bio for each person on your team… use it! You have the ability to add up to 5 images in your About Page slider… use all five.
Don't be afraid to change it up! — You can modify your about page as often as you like so don't be afraid to go back and improve, change, and edit as time goes on.
Your About Page is your opportunity to help shop visitors know you, trust you, like you… if you can, make them want to BE you! Put your best effort into creating a wonderful About Page and you'll see results. You might get more sales, you might get more social media followers, and you might even make some new (real life) friends in the process.
Have you seen some awesome Etsy Shop About Pages? What do you think makes a great one? I'd love to hear from you in the comments.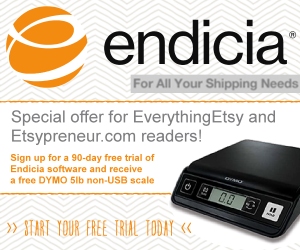 *This Selling on Etsy Tips post is sponsored by Endicia. Endicia is a huge supporter of the Etsy, Handmade, and Vintage community and as providers of awesome tools and solutions for the shipping and postage side of online business they want nothing more than to see you succeed in a big way.
EverythingEtsy.com and Etsypreneur.com readers can take advantage of a special offer including a free digital scale and an extended free trial of the Endicia software. Check that out here: Etsypreneur.com/EndiciaOffer
~ Kim