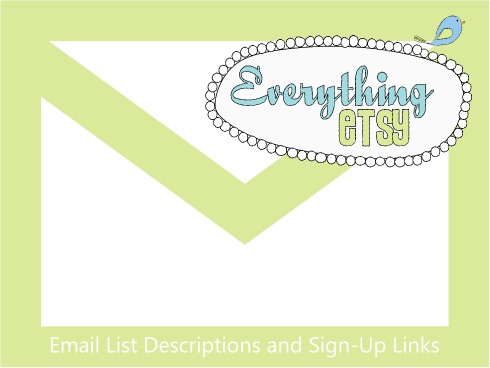 We sent out a couple of emails today and in so doing we realized that it's been awhile since we offered-up email sign-up links on the blog.
There are four email lists you can be on with EverythingEtsy.com
The Daily Posts and Newsletter List
This is the list you can sign-up for under every post on the site. Subscribers get an email from Google Feedburner on any day that includes a new post. This one comes out about 8pm – 9pm most days.
It's a great way to make sure you don't miss a post and don't have to remember to come back all the time. Sort of like using a feed reader, but by email. We also send our newsletters to this list.
Sign-Up for the Daily Posts and Newsletter List Here
——
The Newsletter without Daily Posts

If you prefer to get less frequent emails with links back to some of the most popular content on the blog, but NOT get one every day, you can sign-up for the newsletter only. Just don't be mad if you miss something really perfect for you; the newsletter doesn't cover everything. You can see today's newsletter as a web-page right here.
Sign-Up for the Newsletter Only List Here
——
The Etsypreneur Email List

Signing up for this list is sort of like entering your name in a drawing. You don't know for sure that you'll get anything but you know that if you do, you're going to love it!
This email list is all about Etsy business and includes tips, inspiration, and education for Etsy Sellers. I really think we'll get our act together on this in 2013, so if that kind of email sounds good to you, sign-up!
Sign-Up for the Etsypreneur.com Email List Here
——
EverythingEtsy Ad Notification Emails

We have an ad sale every three months. That's when you can buy the Etsy Shop Only 100×100 ad box slots and it's also when we offer the best deals on our other advertising choices. We used to do the sale on the blog but it was so busy it crashed the site. So now we do that sale by email and only to the list of people who asked to be notified.
The next Ad sale is this Thursday, so if you want to advertise with us (starting at only $60.00 for three months), make sure you're on the email list.
Sign-Up for the Ad Notifications Email List Here
——
All email lists are, of-course, spam free. We won't share your email address with anyone else. And you can unsubscribe at any time.
Thanks for supporting EverythingEtsy.com!
~ Kim