Wow! That was so much fun! We need to do that again.
Those are the things we were saying at the end of the night last night. We had just finished enjoying an entirely new experience. We watched a movie on a huge screen in our own backyard.
It was so much fun! We lounged in Adirondack chairs (made by Tim), snacked on Kettle Corn (made by me) and enjoyed peanut M&M's (clearly sent from above). All the while we enjoyed a wonderful springtime seabreeze and had an incredible view of the starry night sky.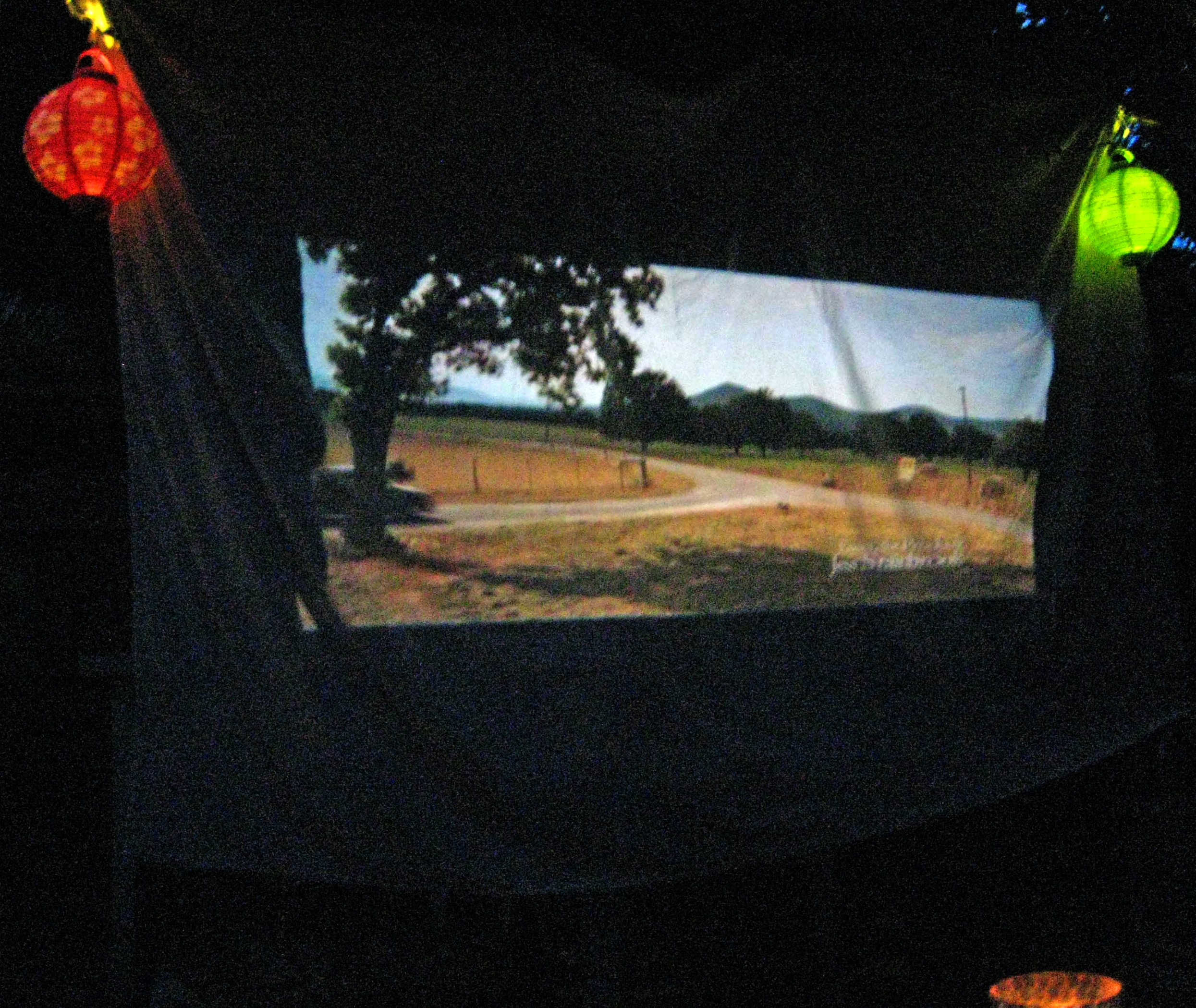 Oh, and the movie was great too! We watched Seven Days in Utopia on NetFlix. It's a great movie and had nothing at all to offend the family nature of the night.
All Made Possible by the 3M™ Mobile Projector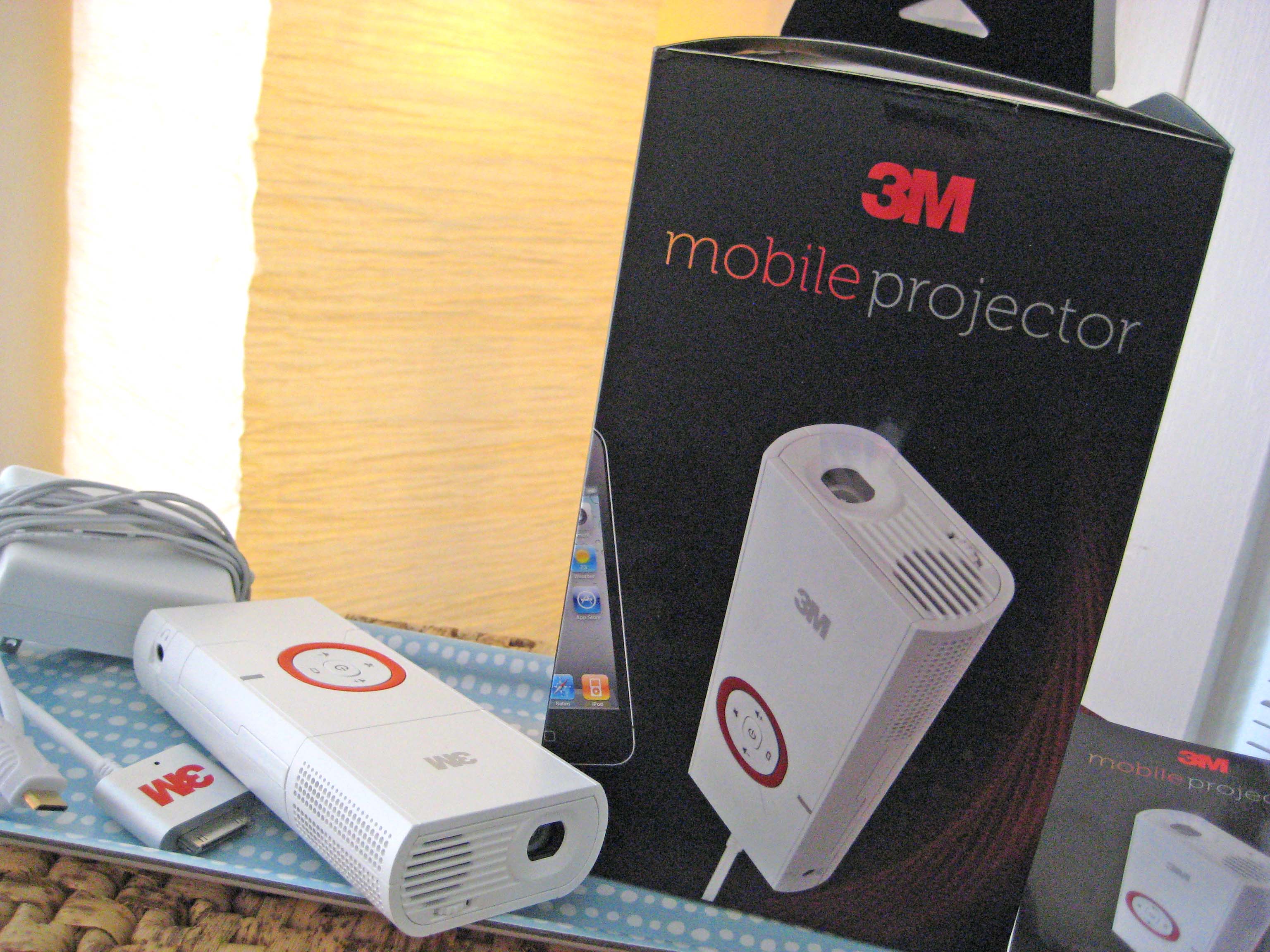 This tiny projector, about the size of a walkie-talkie, has a (removable) rechargeable battery and plugs into your iPad, iPhone or iPod Touch.
If we didn't insist on a louder external speaker (plugged in through a headphone jack on the projector), we could have run the whole thing completely "unplugged" because the projector has its own built-in speaker.
The Screen and Picture
We hung a huge white sheet up under the market umbrella that lives permanently on our back deck. A few strategically placed metal clips and bungee cords and the "screen" was really pretty great. We didn't notice the few wrinkles at all and the little bit of motion from blowing in the wind actually added to the ambiance!
We set the projector, the iPad and the speaker on a barstool about 9″ from the screen. The result was a HUGE picture almost 6′ wide. Larger than an 80″ TV.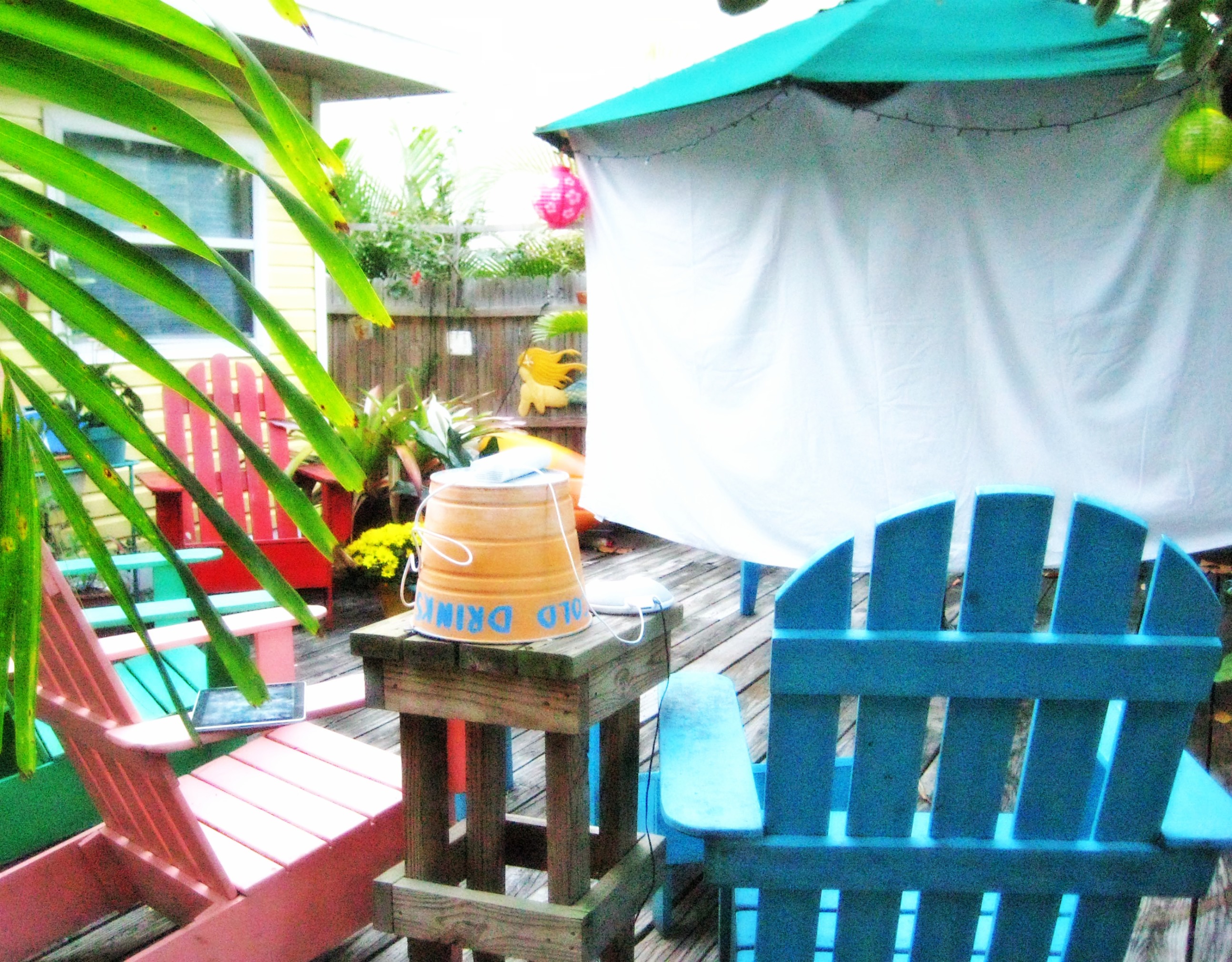 The picture clarity was surprisingly great, especially after it got really dark out. I guess you can't call it HD on a sheet blowing in the wind, but even the text in the credits was clear and legible.
You know what was really cool? The beam of light shining from the projector. Little dust particles and bugs would get lit-up flying through it and it made the whole thing so "vintage" movie-like. Reminded me of the projectors we had in elementary school.
Other Uses and Ideas
You can buy an optional cord for this projector that allows you to project anything from your computer screen. That pretty much opens up a whole world of options. But we didn't have that cord.
Without it, the projector only works for your Apple device. iPad, iPhone or iPod Touch. And it doesn't simply reflect what's on your iPad screen. It displays the following (that I know of):
Photo slide shows from your photo gallery
Videos from YouTube
Videos from the NetFlix app including TV shows and movies
Movies in iTunes
But believe me, that's enough to make it one great little gadget. Here are a few ideas we've had:
Use it at craft shows or trade shows to display images of your work in a slideshow
Set it up in your creative space with a slideshow of inspiring photos
Bring it to the beach and have a movie night on the beach! Hang a sheet on your car for a screen.
Take it camping and watch videos in your tent!
The possibilities are endless.
The speaker isn't very loud and you can't project a picture very far (or large) in bright surroundings. The more space between the projector and the screen surface (which can be anything white-ish) the darker it has to be in the room/outside.
The sound issue is easily solved through the headphone jack connected to external speakers or headphones. (get a headphone y-splitter and two people can use headphones together). The brightness/dark-room issue is pretty just much the way it is with projectors.
Overall, for a package so small and so simple, I'm pretty impressed.
And boy did we have fun. We'll be doing that again very soon!
Win a $150 Target Gift Card
You can win a $150 Target Gift Card. Leave a comment below telling me how you do family movie nights.
Rules:
No duplicate comments.
You may receive (2) total entries by selecting from the following entry methods:
a) Leave a comment in response to the sweepstakes prompt on this post.
b) Tweet about this promotion and leave the URL to that tweet in a comment on this post.
c) Blog about this promotion and leave the URL to that post in a comment on this post.
d) For those with no Twitter or blog, read the official rules to learn about an alternate form of entry.
This giveaway is open to US Residents age 18 or older. Winners will be selected via random draw, and will be notified by e-mail. You have 72 hours to get back to me, otherwise a new winner will be selected.
The Official Rules are available here.
This sweepstakes runs from 5/21/12 – 6/29/12.
Be sure to visit the 3M Mobile Projector brand page on BlogHer.com where you can read other bloggers' reviews and find more chances to win!