We know you're ready for some beautiful fall foliage and you'd love to decorate your Etsy shop for fall, right? If so, we've got a few fall themed banners added to our page full of free Etsy Banners.

The full size image is available, along with a few other designs, here.
We also thought you might be able to think of a few other ways to use these fall leaves, so we're making a large sheet with just the leaves available to you for any use you like. A link-back to EverythingEtsy.com is always appreciated, though!
(just click on the photo below to open a full-size version you can use)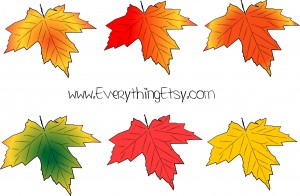 Need a transparent background PNG image? here you go!