Tim here with an (un)scientific analysis of when to list or renew listings on Etsy.com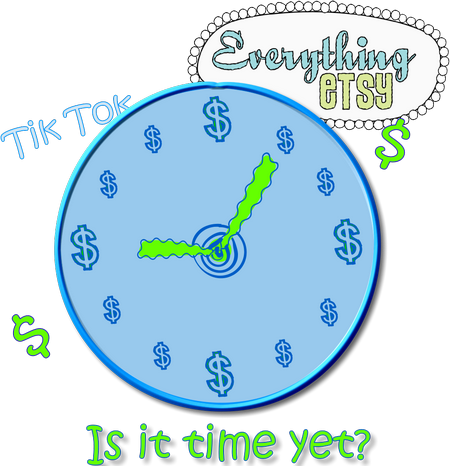 When is the best time to list on Etsy?
It's a question every Etsy seller has asked themselves. It's a subject we've talked about before. It's not an easy question to answer, but the ramifications of getting it right could be huge.
Recently on the Etsy Forums, a forum thread was started with the idea that there really is no rhyme or reason to listing times. As is often the case with forums, most of the comments were from others in agreement, so there wasn't much real discussion.
But it got me to thinking: There must be a pattern. There absolutely has to be peak times on Etsy. I wonder if we can figure them out.
So I tried…
Etsy has a predominately North American user base.
One of the most reasonable arguments for there not being a peak traffic time on Etsy is that the site is global. That's true and it's one of the great things about Etsy, but it's important to realize what that means in numbers.
Take a look at this screenshot from Alexa.com. (Alexa attempts to track and estimate web statistics)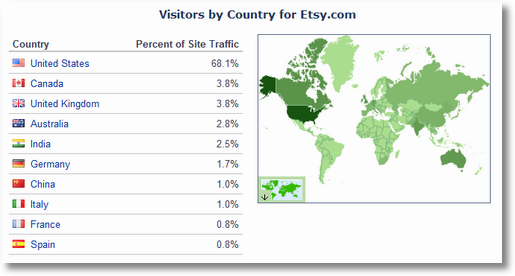 Over 70% of Etsy users are in the US and Canada. That at least can help us to figure out when the peak traffic times are. It seems like a safe assumption to correlate peak traffic with peak sales, would you agree? (please leave your thoughts in the comments)
In digging a little bit for the breakdown of US population by time zone, I found two things. First, I found a thread on Google Answers that gave some data based on voting poll statistics. Here is that data: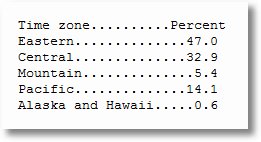 Second, I looked at a time zone map at mapsofworld.com to see if the above data looked right visually. Seems like it does to me…(I redirect you to the opening mention of the UN-scientific nature of this post)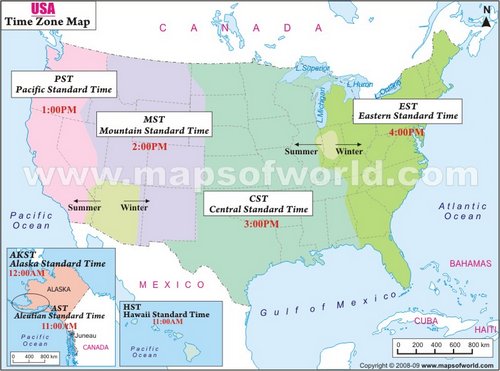 80% of the US Population is on Eastern or Central time. If that's correct, and Alexa is right about Etsy, then it would mean that approximately 57% of Etsy users are on either Eastern or Central time.
So what time do they buy?
What time is best to list?
Here is my thought (aka – best guess) on the answer:
We know without a doubt that overall traffic on our blogs peaks between 9:30pm and 11:30pm Eastern time and remains strong well into the wee hours as the large West Coast population gets into the later evening.
So for more views, I think that approximately 9:30pm Eastern Time is the best. But does that translate to sales? Do people buy at that time? I think that some of them do. The "browsers" for sure.
But what about the buyers on a mission? When do they buy? I think they buy in the mid-morning. My theory (un-scientific) is that those customers who have "buy some great printer paper" on the to-do list will do that between 10:00am and 1:00pm.
More and more people have Internet access at work and/or work from home and based on my personal experience and what we've seen online, they create a "mini-spike" during the mid-morning hours.
Bottom line: I still say that listing twice a day at around 9:30am and 9:30pm Eastern time makes sense. I can't imagine the possibility that it's totally random.
There must be a pattern!
~Tim
What say YOU? Have you seen a pattern in sales? What works for you?
Note: This post was published prior to the current (as of 11/2011) Etsy Relevancy based search results. Prior to this, Etsy searches were based on most recently listed. Since that's no longer the case, what time you list isn't as important as it once was.