Today we have a special guest, Lindsay at Living With Lindsay! She is always thinking up new and creative ways to use what she finds while shopping at thrift shops. Look at what she's up to now!
How many times have you seen a covered cheese plate like this one mixed in with the vases and glassware at your local thrift shop?
If you answered, "Every time I go to the thrift store," then you'd be right. I pick these up quite often for just $2.99 and use them for all sorts of little things, such as displaying nests or little succulents. I'd never even consider using them for cheese.
Readers of Living With Lindsay have often heard me talk about thinking outside of the box. I find when you are attempting to decorate your home as thriftily as possible, this kind of thinking lends itself to some very interesting discoveries.
The little cheese plate pictured above has been sitting in my craft room closet for about a month. I wanted to do something different with it than my "norm," but I wasn't quite sure what that something different should be. Then, I decided to redecorate my son's playroom with a fun new theme and a fantastic idea was born…a dinosaur diorama! I'm not into real theme-y theme rooms, so I wanted to do something classy yet fun and playful.
To give the display a Jurassic feel, I began by spray painting the base of the cheese plate black. Then, with my son's help, I sprayed adhesive on the center of the plate and sprinkled it with dirt.
In order to add some dimension to the diorama, I used the round cardboard box pictured below. Boxes such as this one can be picked up at any craft store and are really useful in building levels in displays.
I wanted the box to look like a large rock, so I cut a piece of it to make it look a bit jagged.
I covered the rock in a scrap piece of dog bone themed scrapbook paper that I had on hand and hot glued my new rock to the plate.
Using some left offer sheet moss from this project, I attached some "grass" around my rock with hot glue.
Now comes the fun part – the decorating! I added some Spanish moss as bushes and little bits of branches as trees. Then, I added four plastic dinosaurs into their new habitat. The dinosaurs were purchased for a few dollars in a package of 10 at a party supply store, and I picked out the four that best fit my room's color scheme. Everything is attached to the cheese plate using hot glue.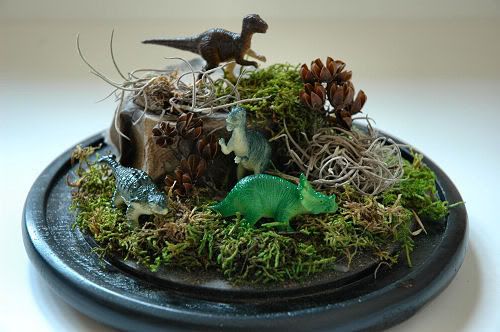 I added a bit of left over ric rac trim from the playroom window treatments to the lid of the cheese plate, and a whole new Jurassic world was born. I know it's hard to see photographed under the glass, but you can trust me when I say it's the coolest thing ever.
Wouldn't you love to put together a great little display like this? I can picture a diorama with Barbie furniture and clothes in a little girls room or one displaying Hot Wheels on a race track in a little boys room. I even would love to add vintage spoons into a display for a kitchen.
You

can do this and you can do it on the cheap!
Cheese plate, schmeese plate. As far as I'm concerned, it's just a means of looking into a whole new world. I cannot wait to add this fun new accessory to my son's playroom. Interested to see what the rest of the room looks like? Visit Living With Lindsay beginning on Thursday for Part I of the playroom redo revealed!
Isn't she creative!? For more creative project ideas, visit Lindsay's Teach Me Tuesday each week. Living With Lindsay is one of my favorite blogs, and I know all of Everything Etsy's readers will love it too.

What kind of treasures have you found lately?