Scroll down for advertising FAQs and Terms of Service
Five years of blogging and approx. 1000 posts and pages has been supported by direct advertisers on EverythingEtsy.com! During that time, we've learned so much about what works and what doesn't and we would love to put that experience to work for you! Advertisers on this site have access to an exceptionally creative and internet savvy audience made up of people who sell online and people who buy online. They view our pages about a million times in an average month. Thanks for your interest!. ~ Kim & Tim
Sign-Up for the Advertising Offers email below to get special offers and discount codes when available!
When you sign-up for this email list, you'll automatically receive an informative email "The Top 3 Factors in Online Ads" along with traffic and readership information. Unless you unsubscribe (which you can do at any time) you'll also receive occasional updates, advertising related articles, and advertising sale announcements from us. We won't share your email address with anyone else.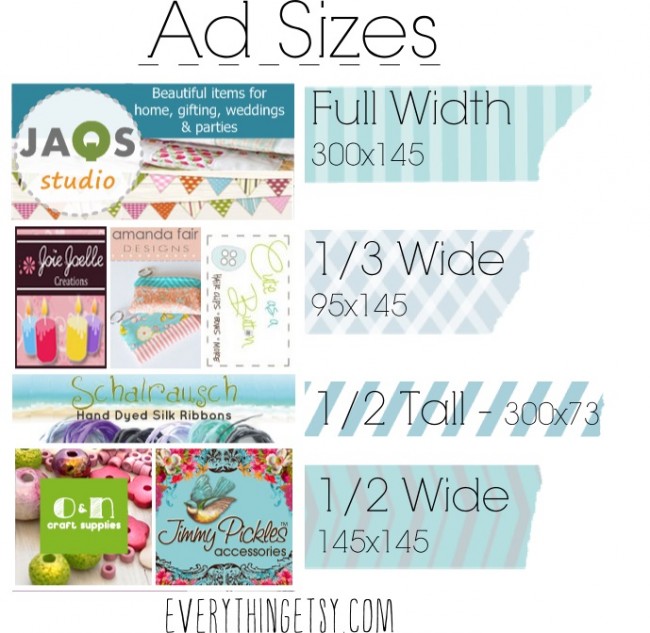 Purchase Here
All prices are for 90 days from the date your ad starts.
— If you have a discount code from an email offer, enter it on the checkout page.—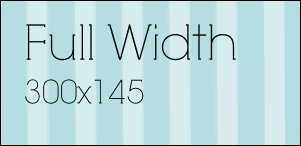 300 x 145 - Full Width Ad on EverythingEtsy.com for 90 Days
Full column width ad for maximum exposure -- 300 pixels wide X 145 pixels tall
$450.00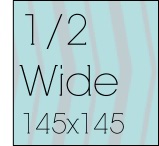 145 x 145 - 1/2 Wide Ad on EverythingEtsy.com for 90 Days
Great visibility and value -- 145 pixels wide X 145 pixels tall
$225.00
95 x 145 - 1/3 Wide Ad on EverythingEtsy.com for 90 Days
1/3 Column for Unbeatable Value -- 95 pixels wide X 145 pixels tall
$150.00

300 x 73 - 1/2 Tall Ad on EverythingEtsy.com for 90 Days
Full column width at a much lower cost -- 300 pixels wide X 73 pixels tall
$250.00
Advertising FAQs
Does Everything Etsy provide ad design?
Yes, we will provide a simple design your ad for you at no charge using your current logo and/or images.
Does my ad have to be ready before purchasing a spot?
No, you can purchase a spot in any ad category and then prepare your ad. Your term starts when your ad goes live or ten days after purchase, whichever is first. If you wait more than ten days to get us your ad, you're losing time!
Do your ads start on the 1st of the month?
Most of our ads can start as soon as you pay and your ad is manually approved based on ad design, ad specs such as image size and file size, and your target link meeting our community standards (no adult material, nothing that might clearly be offensive, and nothing that just won't jive with us for some reason or another. Your renewal date will be based on the day your ad starts appearing on Everything Etsy (or ten days after you pay… see above).
Do all the ads on your blog need to link to an Etsy shop?
No, we have lots of suppliers with links directly to their website. Feel free to link to your Etsy shop, blog or main website.
Can I change my ad to reflect specials or new product lines?
Yes, you can change your medium ad up to once per month and your premium ad up to once per month.
I didn't know when your ad specials were being released. Can I be notified when there's another sale?
Yes, all you have to do is sign up for our ad notification emails and you will be the first to know of any specials on Everything Etsy! This is a great way to not miss out on our limited space offers! The sign-up form is on this page right here.
Can I renew my ad in advance?
Yes, if you would like to lock in your space and ad rate for longer than 90 days, email us and we'll send you an invoice.
I wasn't notified that my ad was canceling. Do you send out emails?
We attempt to notify advertisers ahead of ad renewal. We use your primary PayPal email address (this is usually the one you use to log-in at PayPal). If we can't reach you, we will remove your ad and offer the space to other advertisers. If you're concerned about it, you can pay ahead.
I'm looking for an inexpensive way to start advertising my new shop, can you help?
We have an awesome Etsy Shop Directory, but it's next in line for a redesign so we're not currently selling listings… sign up for the advertising email using the form or link on this page and we'll let you know when it's ready again.
Can you feature my shop or blog?
We love to feature great handmade shops and suppliers, but we only do so when it works with our content. Blog sponsors receive priority when we are linking from our posts because we appreciate their support.
Do you take submissions for guest posts or tutorials?
Yes, I'm always interested in guest posts but we do not have them on a regular basis. Please email me at Kim@EverythingEtsy with your ideas and to find out more about our guidelines
Advertising Terms
We reserve the right to refuse any ad or listing at our sole discretion. If your ad is refused after payment, you will be refunded immediately through PayPal.
Ad terms are approximate. For scheduling purposes, we may extend your ad a few days or remove it a day or two early. This is generally more applicable to the ad special block because we work around weekends and holidays when scheduling release of this block.
You are responsible for providing your ad graphic in the exact dimensions required for your ad.
If your ad is not legible at the correct size, we can't post it and we'll ask for a new graphic
All ads are paid in advance via PayPal
Longer term discounts are available with prepayment, email us for info
Our PayPal account is in the name of our company, Crazy Tree Media, Inc.
No warranty of any kind is expressed or implied. We can't predict traffic, clicks, or return on advertising efforts and expenditures.
Ads can be canceled at any time, but prepaid advertising fees will not be refunded or prorated.